Finding it difficult to take my body temperature tests twice a day, for the14 days I'm in quarantine, with the digital thermometer supplied by the ASQ Legacy Hotel in Bangkok. I thought I would work out some instructions. None were supplied and I have led such a sheltered life. I have never needed to take my body temperature in the past 74 years 🙂 So with a glass of warm water & Google, I started playing.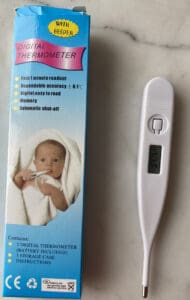 Press the button once the display should show a temperature & battery level.
Press the button again the display should now go blank.
Insert the thermometer under the tongue at the back of the mouth.
Press the button for 60 seconds (actually, 7 seconds is enough in my tests with warm water).
Release the button and remove it from the mouth.
You should now have a temperature, Hopefully not above 37.5 degrees!  The maximum tolerated by the Thai government.
Interestingly whilst in the UK to get the twin jabs I never once had my temperature taken whereas before I went here in Thailand every shop measures your temperature!