I finally made it to my apartment in Les Gets 13 days after leaving Cambridge &  with 76 hours perched on my Brooks B17 saddle. Total distance covered this time 774 miles (1237km) which means when moving I was averaging about 10mph.
The day was very tough for me, as the profile shows:

I'm not going to get any speed prizes though. For the Route des Gets climb I came 295th out of 295 on Strava 🙁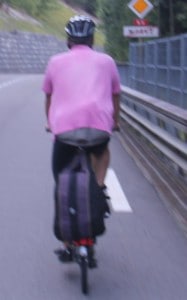 The most humiliating part of the day was when a guy on a Brompton steamed past on me on the climb out of Morez. I was going to ask him how many pedals he broke doing a 200 metre climb – but he was gone..
The most amazing part of the day is that there were NO trucks at all on the N5 mountain pass. Have they been banned? or don't they like all the roadworks. Whatever the reason it's a great benefit to we cyclists, the biggest danger was the cars lugging their wide camping trailers.
Here is the Strava for the day:
The days pics are here.
And here is an overview of my spreadsheet: