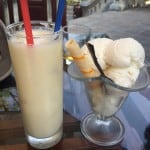 Phew what a scorcher as the UK tabloids would say! I set of early at 7am, grabbed a couple of rolls filled with fried eggs from a street vendor and then hit the melee on Highway 1 heading south. The road is quite narrow in places with all the dualling in process. When I reached Dien Ben I spotted a very cool looking building & place, which I thought was an upmarket hotel. However, it transpires it's the worlds best motorway cafe! totally stunning gardens, meeting rooms etc It's called Vina House (if you are heading towards Da Nang from HCMC  it's a must stop at km950) I treated myself to a wonderful lassi & ice cream. Could quite happily have stayed all day 🙂
I continued on but stopping every hour for a drink, alternating fresh coconuts with Sprite, at one of the stops a European guy came charging along on a small wheeled bike (Dahon?) I later caught up with him and found he was Iñaki a Basque from near Bilbao who is doing the Hanoi to Ho Chi Minh City on some tight schedule so he is pushing 160km a day!  I let him speed on..
My left hand pedal has been getting grumpy so I keep on the look out for a shop that sells spares, few & far between I've found. Eventually a guy said he had a pair, he swopped the right hand one but couldn't do the LH one so I put the old one back on, I strongly suspect the crank has been rethreaded & hence why the pedal fell off earlier. Across the road I found a tool shop so I bought a 15mm spanner so I can experiment at my  leisure. & also a 10mm spanner & pliers so I can adjust the brakes etc.
I found another couple of guys carrying epic loads on their mopeds one guy carrying 7 10 foot lengths of 100mm drain pipe 🙂 another one with 1/2 ton of rebar via a trailer hooked onto the pillion seat 🙂 Must bring some lengths of the elastic home so I can carry more on my bike 🙂
At the 65 mile mark I decided to quit for the day after spotting a hotel off the main drag, it's the DLGL-Dung Quat Hotel allegedly 4 star but doesn't compare to the places we stayed in Hungary.
Todays Strava is here: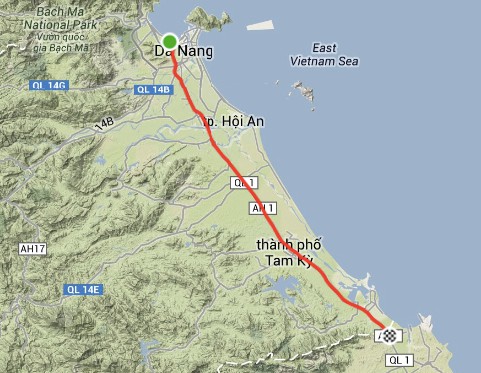 The pictures are here