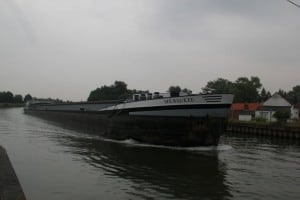 With great reluctance I departed from  Le Clos du Fouan  into the grey & wet morning. I headed back down to the canal, marvelling at the size of the barges, probably equivalent to half a dozen UK ones also on the distance between locks, this part of France is certainly flat. I left the canal at La Bassèe had a cake and coffee and then headed into the French road system. My carefully constructed route on Viewranger quickly turned to shambles when confronted by strictly no cycling signs and huge artics squeezing past. I hastily made another route which interestingly took me through all the ex mining village's & distinctive conical pit tips.
I tried to repeat last nights success using @aroundme all it came with is the L'Aquarium Hotel with it's closed restaurant,  this poor motel styled hotel is rather cut off by a motorway, high speed train track and a dual carriageway. But once you have navigated in it's clean with good showers.
I've spent the evening using Viewranger to edit tomorrows route using the Bing aerial photos as a background so I can physically see the towpaths, fields and absence of bridges.
Legs are starting to loosen up and Sally's pressie of Endura overshoes certainly came in very handy preventing wet feet, until google maps had me going down farm tracks with deep puddles 🙁
Here is the Strava result for the day: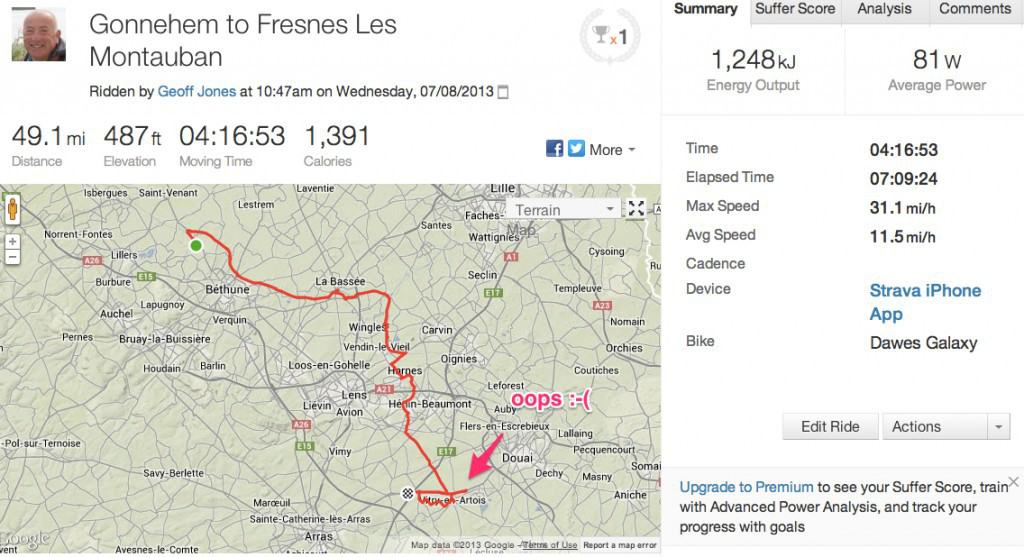 A short day of 49 miles of which 9 were messing about trying to find the hotel, incorrectly shown on Aroundme but correct on Google Maps.
The pics are here today.