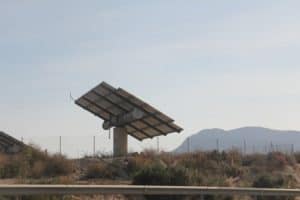 Yet another excellent days biking. I must be getting fitter or the going is easier as I seemed to be going over 16mph most of the time and I only had to go into lowest gear once for one of the hills. OK the first 30 miles I lost 1000 feet in altitude so maybe it was gravity making me feel fit 🙁
The breakfast at Hotel Felix was very basic a coffee and croissant only 🙁  The roads were very quiet and I only saw a couple of cyclists all day. Just outside Purias there was a white van pop up market so I grabbed myself a banana later on I found a cafe and had a bocadillo & queso (I had to write it on a napkin because they just laugh at my attempt at saying it).
I eventually hit the sea at Playa Quitapellejos where I had a smile at the enormous camper homes parked with their huge trailers. I will now be doing the 'Costa' all the way to Tarifa. My first experience of meeting the ex-pats (UK represent 0.6% of Spains population apparently) where a couple where doing their sunday shopping – a bag of ice, litre of gin and litre of tonic water, maybe they had lemons in the garden! I don't think I could ever live in an estate like Los Marinas but a flat in Garrucha city centre…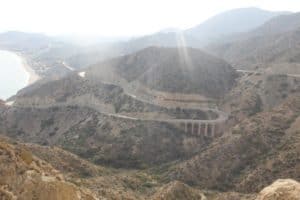 After Macenas the climbing began with a couple of peaks over 500 feet, I love these climbs 🙂 the only problem for me is getting down my mind is constantly working out what would happen if the brakes failed going around the hairpins 🙁 Fortunately I made it down OK into the quiet pretty village of Carboneras and the Pension Las Palmas and its very jolly lady who had a good laugh as I tried to follow her Spanish instructions where to put the bike.
The Garmin Etrex and Strava made it 58.2 miles and 1,757 feet of climbing all done at an average of 12.9mph, understated as I pushed the bike around the market and beach car park.
The Strava app and the Moves app just do not like each other at all, Strava cuts itself off and then draws a straight line whilst the Moves app cuts off at very frequent intervals. But who do you report it too? impossible to get email addresses to file reports too 🙁 I guess it's beginning to expose the limits of having one device do everything.
The days pics are on Dropbox here more to follow, its a painful WiFi connection