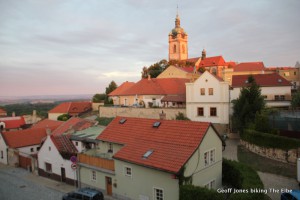 After a wonderful sunrise awakening it was down to a very cheesy breakfast. It was drizzling as I fixed the front wheel back on after it's puncture repair but that soon cleared away as I zoomed down the hill back onto The Elbe.
It was staggering to see the height of the floods on 14th August 2002   marked about 30 feet above the current water level!  It will be interesting to see how much of the new super duper bike path survives the next flood.
Whilst having a coffee in Roudnice I met up with the two guys from Hamburg, they are doing one week of biking  with their old town bikes, actually one of them is on his wifes small wheeled electric bike! He was complaining that when he put on the brakes the motor surged into life wanting him to go faster! Highly dangerous – He didn't take me up on the offer to cut the electric supply cable 🙂
I then noticed that 3 had cut of my account with the cell display resolutely displaying "No Service" Even though I paid them another £5  this morning for another days Euro Internet Pass – that will teach me to even get a local SIM for 2 days of internet use. Hopefully, I will be in Germany tomorrow so I can get a local SIM & it will be goodbye to 3 until I get home.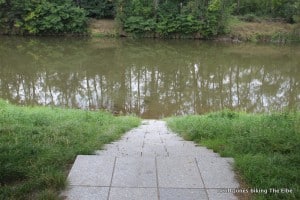 After coffee I took the ferry to make a tour to Terezin where major atrocities took place in the second world war. There is a poignant memorial to the 22,000 Jews whose ashes were thrown into the river in 1944, although it's now surrounded by a golf course. Interesting how time changes events especially after  my recent visits to memorials in Vukovar, Vietnam  and Cambodia. It still had a very creepy feel to it.
I then bumped into my Dutch acquaintance again who was telling me about his custom made SNEL bike from Utrecht, especially designed for easy welding & repair in remote places. Maybe for Africa….
Going up the 25% hill, yes I made it! at Cirkvice I scored another puncture, this time a thorn in the rear tyre, this had to have a inner tube change. Finally making it to Usti.
I managed to get in the rather deluxe Na Rychte Hotel cum brewery for 900 kroner (£26) including breakfast.
The paths are starting to get very busy with bikers, some of which are scary huge guys on mountain bikes with an evil look as they pound towards you! Give me an artic. any time..
The Strava for the day shows 50.6 miles biked and 855 feet of climbing. the pictures are here