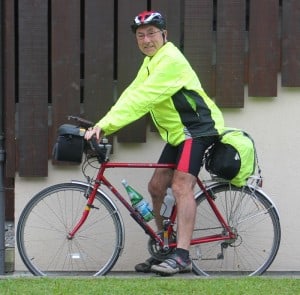 A bright and earlyish start from Les Gets on my streamlined bike sans panniers so considerably lighter and better balanced, I think. According to Strava I did the 28 miles to Evian in 90 minutes so I easily made the 10.10 sailing to Lausanne. Interestingly the price at £20 was exactly the same as crossing the English Channel.
I managed to stop at a bricolage (DIY) and pick up a packet of colliers (Ty-Raps to us UK folk). As the one holding the GPS had broken. Plus I made an improvement to my bracket by taping a bungee onto it that pulls the bracket down & thus keeps the lid closed with the instruments facing me.
The miracle of the day was finding an Orange store in Lausanne where the guy supplied me, instantly with no fuss,  a  nano SIM for the iPhone allowing 300MB of data transfer plus additional data upto 500MB all for 10CHF. Apparently the 10CHF is also a credit for calls etc and additional data at 1CHF per day. It's worked very well so far today although, according to the excellent My Data Mgr App  I've got through 26MB so far today 🙁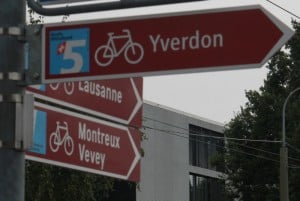 The ride itself this afternoon was on the Swiss Route 5, infinitely better signed than the UK 1 with no obstacles provided by the authorities to slow you down. The route is a mixture of roads, forest tracks, limestone gravel, concrete etc etc. It takes you through suburbia, forest, vineyards, orchards, fields, industrial estates etc so is amazingly varied 🙂
The promised rain only happened in one heavy shower although I would have hated to be in The Jura today!!
Yverdon is a disappointment, still haven't seen the lake & only found one expensive hotel The Hotel du Theatre . The most amazing thing for me is seeing so many people smoke, totally weird.
Two lots of Strava data today:
The morning and the afternoon
and pictures here