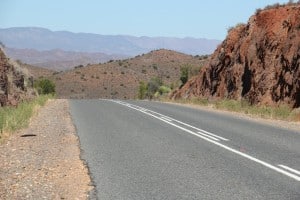 Alex the wonderful host of Ladismith Manor cooked me an excellent breakfast at 6.30 so I could put in some miles before the midday heat. It was deliciously cool as I bombed down the many downhills 🙂 After an hour I discovered The Hubb farm market and had a coffee and apple pie 🙂 The owner said it was downhill into Barrydale but kindly omitted to say about the uphills to come!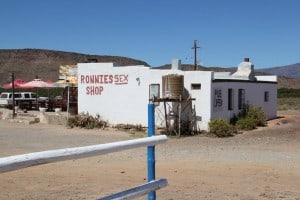 32 km later I came across the second stop of the day. The world famous Ronnie's Sex Shop which has absolutely nothing to do with sex at all! (Apparently while he was away someone scrawled sex into the name)  But boy does he pull in the customers! A very friendly bar man told me it was about to get very hilly 🙁 as well as the fact that places to stay in Namibia are well over 100km apart 🙁 and that at Easter places will be full 🙁 A cheery fellow 🙂 especially telling me how beautiful the West Coast is in spring.
By the time I left it was the full heat of the day with 15 miles to go and what turned out to be a steady 800 foot climb 🙁  Along the way a car towing an empty trail nearly had me, as the trailer was wobbling all over the place. Time to get a mirror I think as the R62 is very narrow.
Eventually the long promised descent into Barrydale came with the front brakes making a very high pitched screaming noise.
I stopped at Diesel & Cream to rehydrate and have the worlds slowest veggie burger but gorgeous smoothies. I'm staying at the equally quirky Karoo Moon Motel next door.
So another 49 miles and 2,504 feet of climbing done in extreme heat. The Strava is here and pics here