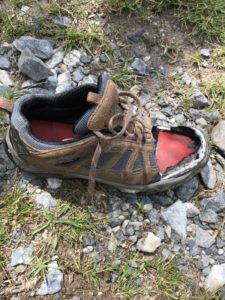 Today was Colin's chance to display his cobbling skills to me after his shoe has been causing him so much pain, very artful it was too, certainly unlike any of my bodged jobs. See the photo for full details, I don't think he's applied for a patent yet!
Apparently, it did the trick at zero cost enabling him to walk with much less pain 🙂
The walking distance between Chantada and Bandeira according to my route sheet is 55km which, obviously, at our pace is way too far.  So once again we called on the services of Geoff to take us to just the other side of Lalin giving us a very pleasant 22km walk to Bandeira.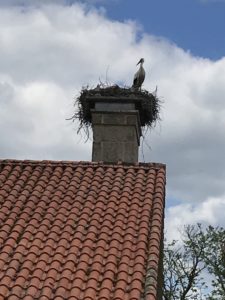 Unfortunately, we were admiring the HOXE dairy plant so much we missed the footpath turning immediately after it 🙁 thus meaning we at to walk across the Rio Dezo bridge and thus ended up on the busy N-525 road. Mistake spotted we hurried onto a minor road to rejoin the path at its other end.
We then arrived in Silleda and started debating about having our usual late lunch, unfortunately, Geoff had already left for Banderia which meant no lunch for us us. Spanish places stop serving at 4 ish and don't open again till 8 ish 🙁
The Hostel Conda Rey in Banderia is quite basic as is the town with its overpowering smell of pig muck 🙁 In the end for dinner we ended up driving back to Silleda which for me was the most disgusting so-called Vegi pizza ever 🙁 they replaced it with some very yellow tortilla.
We ended up walking 22km with 350metres of climbing.

The pictures of the day are here:


Colin has written another excellent post on the day here https://colindavies.blogspot.com/2019/05/thoughts-from-galicia-spain-22519.html