One of the annoyances on the ride down to Les Gets from Cambridge was that at every cafe stop (of which there were many)  I had to struggle to disengage the GPS & iPhone from their handlebar mounts plus the iPhone couldn't be used in landscape mode due to there been no space left on the handlebars.
So on the way I was thinking of schemes to overcome the problem. If  somehow I could attach the GPS & iPhone to my Altura Dryline Bar Bag then with one click of the Klickfix quick release I could remove the Altura bar bag, GPS & iPhone in one swift easy movement and head straight to the cafe with all my valuables.
Obviously any system shouldn't affect the bag water proofing, map case use or ease of access to the bag for taking quick shots with my camera.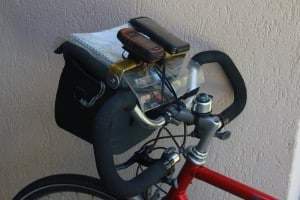 As all good design the answer was cheap & simple 🙂 Take an old aluminium broom handle from the scrap bin. Hacksaw it to the right length, then crunch the ends into a flat using a vice, bend to right angles (very slowly & carefully). Put a hole in each end then attach to the sides of the Altura lid using penny washers and M4 bolts.
The map case slides underneath allowing space for The Bikeline books, even better the broom handle bar keeps the map case  firmly in place.
The Topeak iPhone 5 case fits perfectly and can be used in landscape or portrait mode and as a bonus can have the power cable in place with the auxiliary battery pack in the Altura bar bag. (Use an IKEA plastic bag clip to hold the cable in place and seal the iPhone in anything but the worst conditions.). The Garmin handlebar mount fits on well.
Now to give it the 2000 mile test and to work out how to fix the Silva wind gauge……