Over 4 months later and I'm back here 🙂 Although I notice over 40 folks a day still visit the site to check out my Scarpa boots posts etc.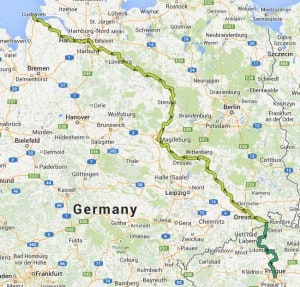 My next little bike trip is now planned and I leave next Tuesday to get the overnight ferry from Harwich to Hook of Holland it's 70 miles to the ferry but I might just let the train take the strain for that stretch.
After the ferry it's a four hour or so bike ride to the main station in Amsterdam to catch the overnight sleeper to Prague. Arriving in Prague early Thursday morning ready to cycle the Vitava & Elbe rivers to the North Sea at (probably) Brunsbüttel after this I will probably do the additional  216km to Esbjerg in Denmark to catch the ferry to Harwich. This has to be before September 29th as the ferry ceases to operate afterwards 🙁
According to my Bikeline books it's 500km from Prague to Magdeburg and then 500km more from Magdeburg to Cuxhaven (on the left bank) and pretty well downhill or the way so somewhat easier than the Sportivs that Sally has me doing here in the UK 🙂
I must give a special shout out to Øivind Langeland and his bluacciaio.com blog for all his positive remarks about my biking the Danube posts. It was great to follow him following some of my route 🙂 maybe next year we can do some of the Iron Curtain Trail. together.