Tuesday 4th April 2017
My final day on the 4 rivers and what an amazing finish it was!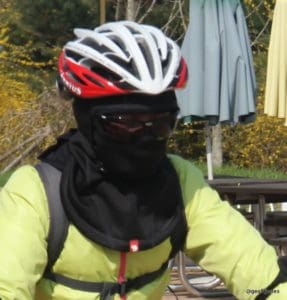 I started off at 8am which was a bit early for the Korean bakeries 🙁 so I made do with a few rolls and other bread bits then proceeded to do an 8km loop onto the other side of the river. Only to discover that the concrete bridge near theAdellia has a cycleway on it 🙁
I sped alongside the river with a decent wind behind me to the first registration stamp box and said hi to a group of MTB's wearing the customary face masks, I felt almost naked in my shirt & shorts 🙂 Just after Sisalli there was one of the dreaded steep climbs straight upto 300 feet 🙁  then it was a turn to the south and straight into a big head wind! There was one small stretch on a busy road with no cycle way, the first yet! but soon a concrete path appeared. Once again there were no cafes. At the old bridge in Samrang I at last found a cafe!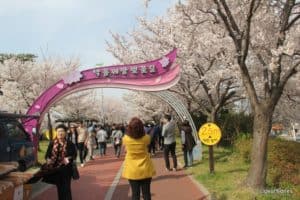 The last few miles coming into Busan were stupendous, magical with all the cherry blossoms in full flower making a canopy over the whole cycleway, it was crazy with pedestrians and everyone taking selfies etc for several miles. So I timed my trip to Korea perfectly 🙂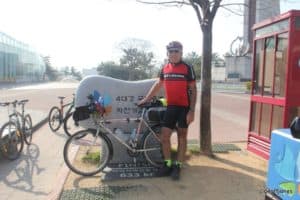 At the end of the trail, I took my cycling road tour passport in to get my certificate. The guy kindly filled in my missing stamps 🙂 to get the substantial medal and certificate snail mailed to me in the UK cost 32,000 WON for the postage etc.
I really do have to give tremendous kudos to K-Water for constructing the awesome cycleway and also the idea of having a passport etc. It's certainly a notable forward-looking achievement for Korea. Given the obese nature of many of the young kids over here probably, a very good idea.
Since it was only 4pm I thought I would try and get on the ferry so maps.me gave me a route to the port. Strange to be on normal roads again, It was a hell of a ride with a monster steep hill upto over 400ft  and used as a rat run by the local taxis – I'm convinced my fate will be sealed by a mad taxi driver! Then it was through a long tunnel along a very narrow pavement – the wind behind me was so strong I ended up braking all the way through it. Out the other side it was then trough a tunnel under the rail tracks (lots of rough sleepers here) the other side it was a mad dash across 12 or so lanes of traffic. Strava says I rode 69.5 miles
The terminal itself is very efficient I just put the bike in the lift upto the third floor and bought a ticket. 10,000 fo the bike and either 90,000 to share a cabin or 150,000 for your own cabin 🙂 The cabins are very pokey with only a basin & no WiFi 🙁 Nothing like the Harwich Stena lines ferries.
I nade the silly mistake of getting rid of all my WON, so on the ship I was cashless 🙁 and yes they only accept YEN cash! (They will convert WON notes to YEN). Fortunately a UK guy who used to live in Mill Road but now lives in Sydney 🙂 befriended me and gave me a beer! Many thanks if you are reading this 🙂  Given the 250 school kids on board I just went to bed with no dinner sleeping like a log!
The pictures of the day are here
So goodbye Korea many thanks to Scott & Laura, Tim & Viv for the evenings out and sorry I dashed off at the end 🙁
I did 534 miles ( 854km) and 16,610 feet of climbing (5,100 metres) in 11 cycling days and spent £396 on accommodation in Korea. The actual 4 Rivers is given as 633km