The 23rd day of biking The Danube  started with a bit of a disaster when I thought it would be a cool idea to pressure wash the derailleur to remove all the sand etc. With the first blast of water the top jockey sprocket flew across the yard  🙁 we found the sprocket, two washers & insert but no bolt 🙁  What to do? we went on a search for  a  back yard garage,  eventually finding the guy who fits car radios in old bangers. An M5 bolt  from a radio kit did the job and was chopped down with an angle grinder.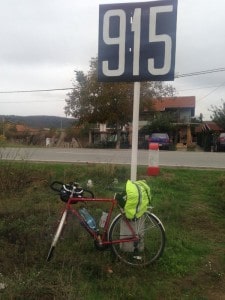 Due to the scarcity of hotels it was always going to be a long haul to Calafat, especially if religiously following The Danube rather than doing a short cut on the incredibly busy DN56A, I eventually ended up doing 90 miles and barely getting here in the light due to head winds in a couple of places. Fortunately in the middle of the day I had tail winds and fine weather so was able to do 20mph+ The villages on the way today are really poor, the shops don't even sell chocolate bars 🙁 and the horse & carts are used for real work not show. The roads were mainly good although occasionally it disappears to a sandy track for no reason. The worst part by a long way is the section before the new bridge at Calafat, narrow, bad edgins & huge artics desperate to get to Uncle Bulgaria.
I made it to the antediluvian Panoramic Hotel  in Calafat feeling totally wrecked, I tried searching the town for eateries but couldn't find anything so back for dinner.
Here is the mega Strava for the day and some pictures with the horizons probably not horizontal.