Living the dream I certainly am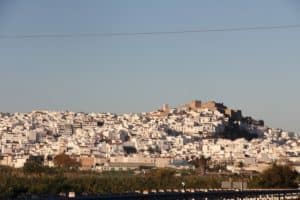 🙂 Waking up, packing, having a  toasted baguette covered in liquidised tomatoes and a long black coffee. Hoping on the bike in warm sunshine and away for another day in the saddle.
The day started as it usually does with a roller coaster of 400 foot+ hills then straight down to a beach and up again! rinse and repeat for 27 miles and you have your 1 mile of ascent 🙂
The road was quite busy with traffic since the coast is now getting built up, the greenhouses have been replaced with thousands of white houses all soaking up the sun on this the Costa del Sol. None of the places I went through took my fancy at all, just huge holiday towns.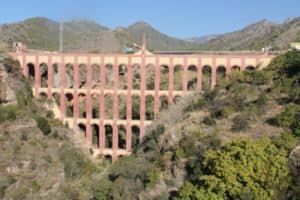 The Acueducto del Águila (Eagle Aqueduct) at Nerja, is truly amazing to see, just think of all those bricklayers 🙂 there is its history here
Lots of cyclists out today including families, on the flat section near Malaga and I saw my first tourers, but going the other way 🙁 so no time for a chat.
I'm at the Hotel Zeus tonight in Malaga centre close to the rather posh train station. The WiFi doesnt quite make it to my room so I'm in the lobby listening to some weird Spanish comedy show.
Strava on the iPhone worked perfectly today, whether it was the recent iOS update or the maps.me recent track feature that was causingthe problems I don't know 🙁
So I rode 59.3 miles and climbed 5,238 feet most of it in the first 25 miles. The average speed was 11.2mph, pulled down by all the traffic lights and stops in the town centres.
The pictures of the day are on Dropbox here