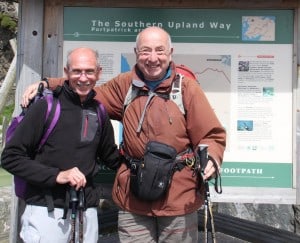 Today with George (who I first met 50 years ago whilst doing the Duke of Edinburgh's award scheme at Parkgate Iron & steel works) I started the Southern Upland Way. This is a 212 mile coast to coast walk across Scotland starting in Portpatrick near Stranraer.
This is the first time I have pre-booked the trains at either end plus the ten b&b's in between. Another first is I'm  using my new Polar H7 heart monitor with the iCardio app on the iPhone.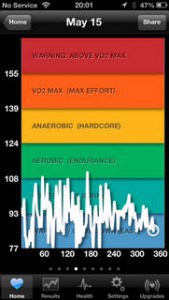 When we left George's house in Kendal it was hammering down with rain. However, by noon when we arrived at Portpatrick all was clear but with a very cold wind blowing hard.
The walk is, so far, well marked although with a fair bit of road/track walking today. The moorland bits were very boggy with no refinements such as gravel or paving slabs like on other National Trails. The Via Ferrata bit is a chain handrail alongside straightforward  steps in the rock.
We did 18.38 miles in 5hr 52min + 1hr 35min stops  according to my GPS as we went into Stranraer to grab some fish & chips before our b&b. This is the rather magnificent deluxe Chlenry Farmhouse (which offers a big meal with wine for £35 each…)
Tomorrow is Bargrennan some 25 miles away
All the day's pictures are here
The trip statistics are here 
The trip on Everytrail is here