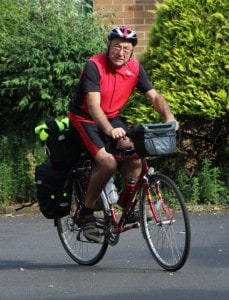 Today marks my first cycling day in this years marathon ride which, hopefully, will take me to Les Gets to visit my apartment and maybe meet Euan for a walk or two. I  hope to cycle over to Zurich to see my neühew then onto the start of The Danube River at Donoueschlingen, cycling down it's full length of 2886 km (1,800 miles) to The Black Sea. Not sure what to do then but maybe go down to Istanbul.
The first day was with Sally on her lightweight racer with me lugging two panniers (hastily emptied a bit to allow the saddlebag to fit). Coming to a hill felt like someone was hanging onto the bike the descents are cool although above 22mph it gets a bit of a shake.
Here are the stats (note I'm wearing a Polar bluetooth H7 heart monitor & the bike is now fitted with the Wahoo SC bluetooth cadence & speed monitor all hooked into the iPhone5. Today I used the Strava app.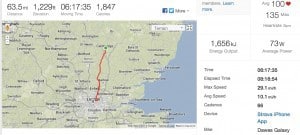 Now for the fish & chips lets hope they cost a bit less than the local PH drinks.
The photos are up on Google+