What a day! Amazing day of bike climbing, wind, traffic and discovery.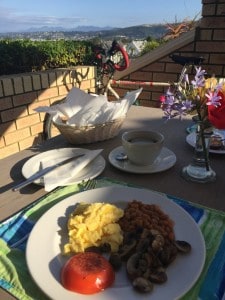 The folks at my yummy Al fresco breakfast in Amber Guest Lodge all said it was a very pretty coastal route, they all omitted to mention the climbing and the Kaaimans Pass 🙁 which is probably just as well. Also no one seemed to like George (the town that is).
I set off and made a quick visit at Ultimate Cycles to thank Frank for adjusting my brakes and to scrounge a bit of inner tube to make a better clamp for the iPhone bracket. Then once past the lagoon it was straight up a climb 🙁 and then another and another. Unlike yesterday this section has no cafes or shops until you reach slow town Sedgefield where i had a coffee & scone for £1.15 (Returning to the UK is going to a real shock!) and I can begin to see why there are so many African swallows 🙂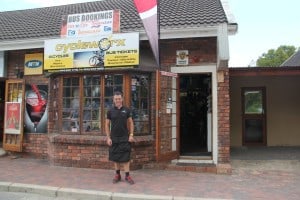 Since it rates itself as a 'slow town' I decided to wander down the back streets eventually alighting on an amazing gate made from bike parts (The Africans love gates & fences( outside the Cycleworx shop. The owner Eugene invited me and my bike in for a coffee. He had his web designer there too. One hour later I had my route to Stellenbosch planned and someone to help me sort out my SmugMug pictures 🙂 plus if any  SWNC members want somewhere to do winter mountain biking in the sun I now knew a man…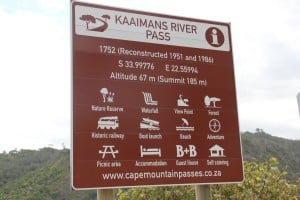 By the time I reached Wilderness the wind was blowing a real hoolie with the sand from the beach and passing trucks blasting in my eyes 🙁 and the mountains to where I was heading covered in thick black cloud 🙁 Yet another climb started with a rather auspicious sign half way up proclaiming it was The Kaiimans River Pass, the sign said I was at 67m above sea level and I could clearly see the next direction was heading straight down. However, the sign also said it peaked at 185 metres 🙁 🙁  Not nice with huge trucks snaking around the bends and the wind trying to push the bike across the road 🙁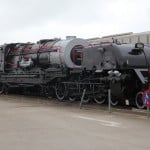 Eventually I made it to the top and a much needed Coke at a petrol station. The clouds were now seriously dark. I shortly reached George, industrial as folks had said, but I prefer 'real cities' to tourist centres. However I couldn't resist popping in to the Outeninqua Railway museum when I saw the sign! Stunning and well worth 50p of anyones money 🙂 To see the huge locos made in the UK and shipped over in 1896, amazing. Plus just how tiny the trucks were that I used to see as a kid at stations. Whilst inside the heavens opened! good job I wasn't doing an audio recording.
After 30 mins I was on my way to the Acorn Guest House which is truly amazing at £30 per night for staying in one of the oldest houses in town, exquisite furnishing, persian rugs, modern paintings and even a decanter replete with sherry in my room! and she even let me put the bike in the room! Followed by a great pizza etc around the corner in a Mexican bar/restaurant.
An excellent if tiring day tomorrow a lot more climbing to Oudtsshoorn.
Here is the days 42.6 miles & 3,163 feet of climbing on Strava and Pics