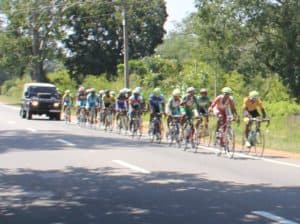 This place was a first for me. The guy on reception bought a cup of tea to my room OK it was totally disgusting but its the thought that counts 🙂
I made a very early start at before 7am by dispensing with breakfast and hitting the road before peak sun. I was pretty certain food would be easily available en-route. It was a busy fast road with mainly a painted cycle lane so I bombed along 🙂 using the draught from the buses as power. I even saw a peloton going the other way – with a land rover as a safety vehicle! Maybe SWNC should get one 🙂
Amazingly I found a de-luxe roadside  restaurant complex for breakfast with a lovely mango fruit smoothie.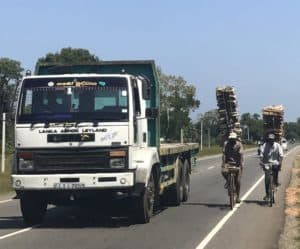 I continued on at speed until I saw these two guys carrying unbelievably high loads of firewood on their old bikes. Totally amazing and they made it seem so stable even with trucks passing them 🙂
The stretch between Medawachchiya and Rambewa was particularly bad with very heavy traffic and the road narrowed due to the edge breaking away reducing the width. Scary in the extreme.
I arrived in Anurradhapura OK and found The Senowin Holiday Resort, once again Resort is in the phase  "last resort" rather in any positive sense. She insisted that AC would double the price as the booking.com was for a non AC room 🙁  I agreed. Then I found the WiFi was rubbish.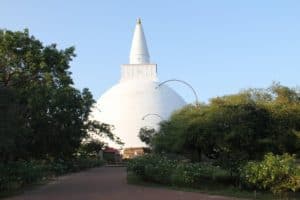 My Marco Polo guide said I should see the Mirisawatiya Stupa constructed in 200BC (what where we building in the UK then?) so off I pedalled around the complex until a policeman asked me for my ticket, I shrugged my shoulders and he escorted me away. Just wasn't worth paying $25 30 minutes before sunset 🙁
Trying to get a meal in the evening was hard I could only find one restaurant open. Weird in a tourist mecca like this.
A pretty impressive day with Strava saying I did over 84 miles at nearly 13mph 🙂