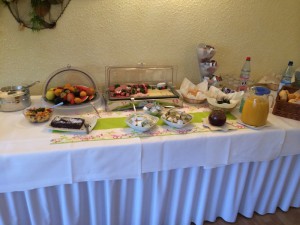 After a much better sleep and my Snorelab snore score halved from the previous night I woke to a very grey day & heavy drizzle. My spirits were lifted by the magnificent buffet breakfast spread & excellent personal jug of coffee. I've found the Landgasthof Sonneneck a perfect small hotel, friendly & efficient and the traffic noise isn't that bad as it stops in the night.
Five minutes after setting of I hit the first of many diversions most caused by works on flood defences, the cycleway is gradually getting further away from the river here! Just before Wittenberg I hit the Netto and stocked up on Ritter's & fizzy juice drink. Wittenburg is very pleasant and would make a good place to stay (seemed popular with English tourists) the apfelstrudel was good too.
I eventually found the way on the left bank, although I suspect the right bank route has fewer diversions. I finally cracked, with Googles help out to get Gaia not to turn the screen of by going to Settings/General/auto lock and setting to Never. This makes it much easier to find the route especially with Gaia set to rotate the map so the direction of travel is always up on the screen with location auto centred. However, I then discovered that Strava had crashed hours ago 🙁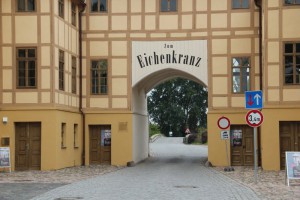 The two routes meet in Worlitz which caused me some confusion but eventually left through the massive gateway, this area is full of old huge estates.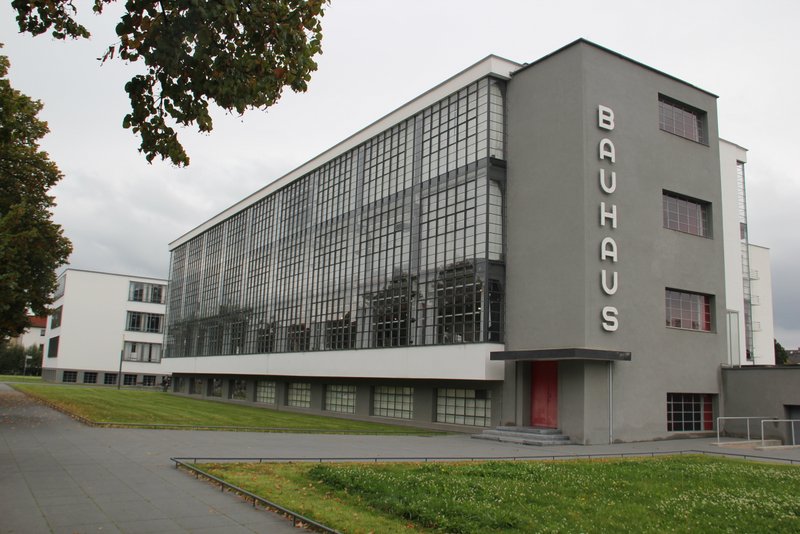 Dessau was a bit of a surprise to me (OK I should be organised & read the guidebook) when I happened upon The Bauhaus (Walter Gropius also designed Impington Village College where my designer son did his sixth form art)  – amazing how a plain box can be quite so elegant followed by the equally intriguing Fokker museum. I really should have stayed and spent some time here, but I pressed on.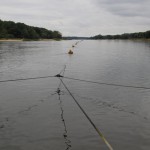 The Aken ferry is a cool design too being anchored by a long rope in the centre of the fast flowing Elbe, by tugging the rope on each side a small amount the ferry can be made to swing to each side of the river, if the rope ever snaps I guess you would find yourself quickly in Hamburg :-). Crossing makes an interesting arc on the GPX file.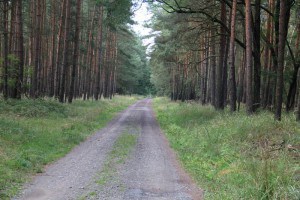 After the ferry you cycle through what seems endless pine forests, good training for Finnish biking I guess. It was getting late there was no internet on the phone to use booking.com. I was beginning to worry a little thinking it would be 8ish before I would arrive in Magdeburg. When I swung around a corner in Pretzien to find a very inviting Park Hotel. A welcoming place even if the internet is quite possibly slower than the old dial up.
I did over 74 miles today. The Strava route is here and more photos from the day here