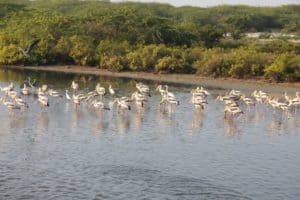 The Juli Hotel managed breakfast OK although my coffee was tea and arrived just as we were finishing. Reception, or lack of it, caused a huge delay. I was just thinking of doing a bunk when Ashoka the naturalist/birder guide appeared. He immediately rang them up and a guy dutifully appeared 5 mins later 🙁 The hotel still has a lot to learn in western customer service!
A small plug here for Ashoka Jaarathne, Eco tour Operator.  If any of my twitcher readers fancy a trip out here to watch the birds etc I would recommend him. Very knowledgable and speaks good English.
I felt really tired, probably the jet lag catching up, so ended up stopping for numerous drinks. A big difference to Cuba is that there are shacks selling junk food/pop every few miles mostly with fridges 🙂 A 300ml bottle of Coke is 50 Rupees (£0.27).
The road is in perfect condition except for a few places where obviously the bridges got destroyed in the war, this and a few burnt out buildings is all that you can see of that terrible time. I must have passed at least 10 army barracks as well.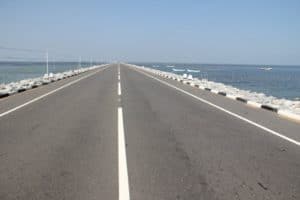 It's very flat and reminds me of Titchwell RSPB, although they would die for the birdlife here 🙂 The causeway over to Jaffna is stunning even with an ice cream van at the end.
I haven't really explored Jaffna yet as I discovered the Old Park Villa for a very reasonable price on the way in!
Really, in the end, an excellent day and I so love biking on smooth empty roads in shorts & sandals. I truly am insanely lucky to still be able to do it easily at 69.531119 years old 🙂