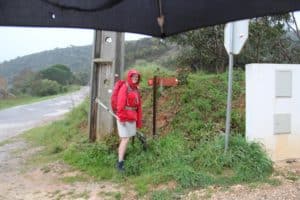 By the time we had finished breakfast at 8.45 it was pouring down with rain 🙁 Neither of us had bought our full UK weather kit with us 🙁 so we hung around to see if it would stop.
At 10.15 we gave in and left, me with a small brolly Sally with my new rain jacket. It was still pouring down making the pavement slippery and gooey mud. The first section is uphill at the top it plateaus out and you meet the levada (water channel for irrigation) with the route hugging it, complete with mud 🙁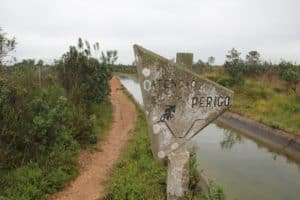 Eventually, we made it to Rogil and a cafe for a drink and pastry, it was still raining when we left but gradually turning into showers with longer dry spells. By the time we dropped down into  Odeceixe the rain had given up allowing us to look around.
We found the Hospedaria Firmino Bernardino on the edge of the village, the owners baby daughter took one look at me and ran away screaming 🙁   (and as I write this, in the evening, she is still screaming upstairs). One interesting factoid on this trip is that none of the hotels we have stayed in have AC but all have heaters in the rooms, perhaps Portugal is not so hot after all!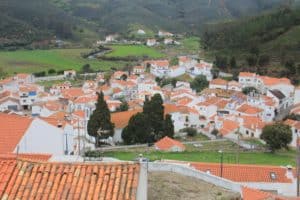 The village is quite pleasant but cold and deserted. I guess most of the properties are holiday homes or summer lets. Tomorrow we hope to get a taxi to Zambujeira do mar and then walk back here via The Fishermans Trail.
So Strava says a short day of 11.5 miles and only 444ft of climbing.