Today was another of those days that started of poorly but turned out well:-)
After been woken by my neighbours and the totally rubbish plumbing in The Apps Hotel (I don't think I've ever heard such noisy pipes). I strapped everything on the bike sat on the saddle to discover the back tyre was partially flat! Of it all came I flipped the bike over , couldn't find any damage so pumped it up and hoped for the best. In the process discovering the front wheel was binding on the brakes due to the quick release being loose.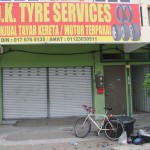 Of I set on a cool morning, a few miles down the road the tyre suddenly went totally flat 🙁 I wheeled it across to a tyre fitting place, closed of course on Saturdays  but they had conveniently left a big bowl of water out 🙂 so stripping the wheel, in the process discovering the axle was pretty seized up. No wonder it's been hard going! I discovered a staple had punctured the tube, wheeling it across the road had caused the staple to make a hole on the other side:-(. I swapped it for the repaired tube & continued on my merry way finding a shop that sold a can of thin sewing machine oil, which I poured into the rear axle plus a place to get another spare tube.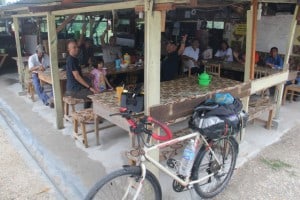 Looking at the Google cycle map layer on Gaia I found some good back runs & even a pleasant track not even marked so I kept of the dreaded Highway 5 all the way into Klang. Interestingly I'm wondering if Google are using bridges as Easter Eggs, since they seem to be misplaced quite often. Certainly made for a more pleasant ride and i found a great seafood place for breakfast the folks even thought I was like 55 🙂
I made it into Banting at 56 miles and discovered the rather pleasant Hotel Garden, decent internet  (until it fell over) & shower. However, my room seems to vibrate with the lift motor 🙁 but hopefully it will stop during the night!
Rather amazingly another cyclist, Sabine, is staying in the hotel tonight she is pedalling from Bangkok to Singapore. Very interesting to compare notes  although some motor bike made her fall off leaving a nasty scrape, so her leg is covered in tape & gauze 🙁
Here is todays Strava: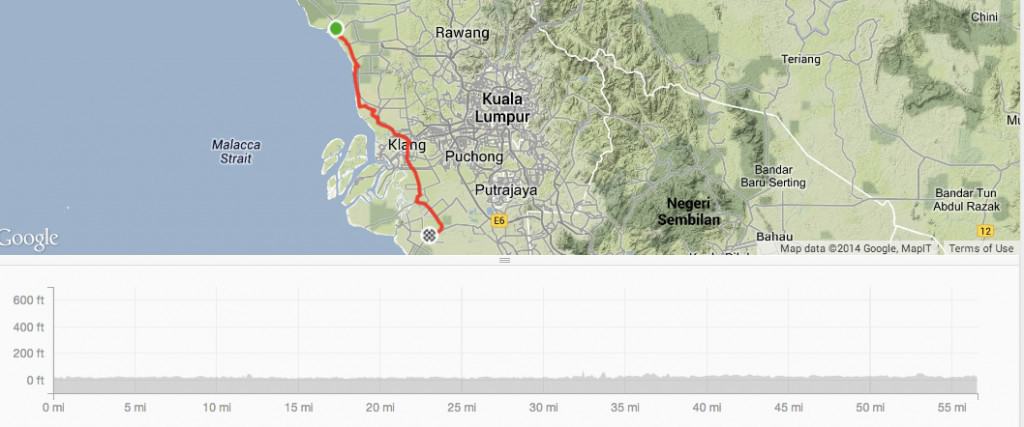 and some pictures here