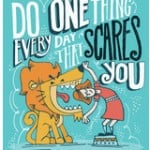 With a snore score of 18% and above mild intensity I think Sally's idea of a low snore score been due to the adrenaline from yesterday's excitement wins over my hard mattress theory. I remember reading once you should aim to be scared at least once a day 🙂
The breakfast offered by the Sao Mai is the same stuff as dinner, I'm sure the Vietnamese eat the same whatever the time of day. They fried up a couple of eggs for me with some bread to make it more Western I added noodles 🙂
The weather was diabolical raining and really quite cold. I supposed I looked a bit silly in my shorts with everyone else wrapped up. I eventually left at 9.14, although if the hotel had been nicer I would probably have stayed.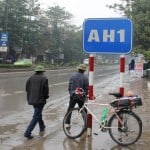 I started, like Dave, on the much maligned Highway 1, which to begin with was really quite good and with a tail wind I was wondering what all the fuss was about as I bombed along. Matters quickly got worse with dreadful road surfaces ,excavations for new carriageways etc etc The buses as always charging along  heading straight for you as they overtake cars plus people travelling really slowly on mopeds and even school kids two on a bike, making it a real challenge.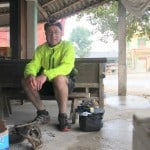 When I arrived at the junction where Dave turned of for the hills I stopped to warm myself up with a cup of tea. & ponder.  The old lady kept pointing to my knees and shivering. I finally decided to stick with Highway 1 due to the weather and especially the rear wind.  This would  also mean I should see the coast and also cover the distance quicker.
The road was awful, narrow, potholed surface & incredibly busy in places but I made good time and it was flat. An interesting thing I noticed as my gears were complaining about lack of oil is that all the little bike shops have disappeared in the villages, replaced by new bike/moped shops. Eventually I scrounged some oil from a 5 litre can in a garage workshop.
For lunch I found a cafe and discovered a new technique for ordering food. I walked around the tables with the waitress pointing to the stuff on unfinished plates that I liked  🙂 when it came to pay the waitress pulled her wad of cash out and showed me the note she wanted,
I decided after 64 miles I had enough so pulled into the very grandiose Muong Thanh hotel in Dien Chau which after some negotiation came down to a respectable price.
The Strava report is here (click the image for all the stats):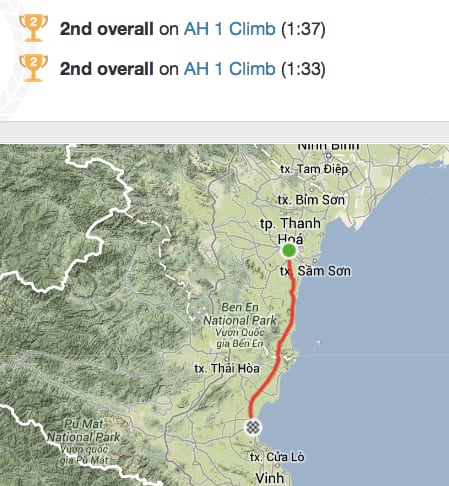 Not to many pics today due to the weather 🙁 but they are here