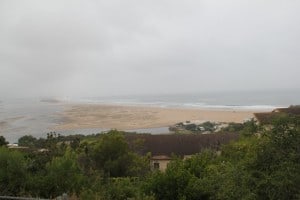 Fortunately today was a short distance both because of a bad night with an upset stomach and also because of rain & low cloud 🙂 It's unfortunate that a seaside place is built on top of a 300 foot hill as well 🙁 especially when the b&b is at the bottom! The N2 was busy as well in the warm drizzle. Where I discovered that the big trucks use the shoulder  so that cars can overtake them 🙁   A club cyclist stopped to have a chat when I was checking my front brake – first cyclist I've got to speak to here 🙂
I took a coffee and scone at the Radical Raptors cafe & tried to dry out a bit. It was then a slog of a climb up to 1,000feet not a big climb but one of those where you think a brake is on. Even coming down through the shanty town wasn't so pleasurable, amazingly they are building a huge fence (The South Africans seem to love their fences) to stop folks crossing over the wide road, it doesn't seem to have occurred to them to built a bridge or tunnel so folks can cross the road safely.
By the time I reached Knysna, Mountain Bike Heaven so the poster board says, the rain had stopped, the Amber Guest Lodge is perfect, I can honestly say everywhere I've stayed has been pretty well perfect! This place even has decent WiFi.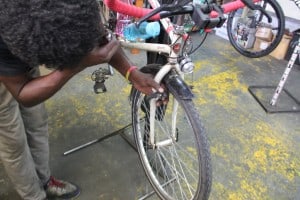 First job was to find a bike repair guy to sort my brakes out. The young Ugandan lad in Ultimate Bikes took one glance and said my brake block was in upside down 🙁 and the caliper lever bent 🙁 both a result of the air trip and my gross incompetence) but anyway quickly fixed ready for the mountain passes to come. A quick going over with Würth HHS 2000 spray on grease and I was ready to roll for £2.
Tonight it was down to Blend for a perfect Pizza & ice cream with beer. A good ending to the day.
Strava says I did 21.5 miles and 1639 feet of climbing plus another 9.2 miles touring Knysna.