Wednesday 29 March 2017
Another great day of biking this time with added sun!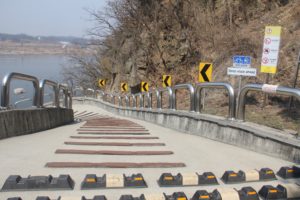 I pedalled into town to get breakfast at Paris Baguette which was pretty busy. As I was munching away an American couple, Laura & Scott from Ohio, sat at the adjacent table nearly two hours later after a very interesting chat, they are a couple where its much simpler to ask where haven't you been? I left 🙂 They are also biking to Busan but ride somewhat shorter days than me, but we exchanged numbers to keep in touch.
It was an excellent day for biking the temperature had risen and the sun was out. I was soon in my short sleeved shirt 🙂 To begin with it was following the rivers on an incredibly smooth path, the only problem was the short 20% circular descent from the barrier 🙁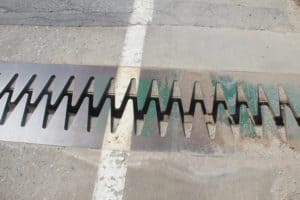 I tried taking some selfies for a header with the Canon but it proved difficult as all the fences all have slightly pointed tops on the posts 🙁 The miles of fences interestingly are made of some hard plastic.
The afternoon peace was broken frequently with all the F16's flying around Jungwon AFB although I was amused with all the fishermen in their comfy chairs around the neighbouring ponds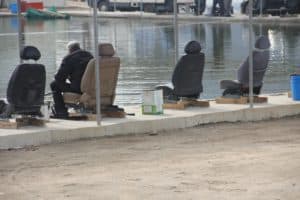 After Chungju, where I probably should have stopped, the path deteriorated to a bumpy track as I guess lost folks would go through the town. I kept going enticed by the hot springs on the map. The hills soon started and I getting concerned in the fading light. Eventually after nearly 100km I arrived in Suanbo which is much bigger than maps.me shows – I need to stay and update the Open Street Map I think.
After some haggling, I splurged a little on the Suanbo Sangnok Hotel which has a thermal spa in the basement 🙂
Strava says I did 61.2 miles and 1920 feet of climbing most of which is in the last 10 miles!