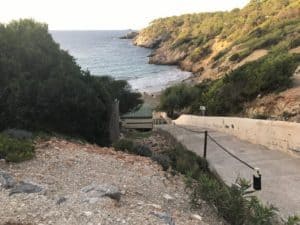 I wrenched myself away from Cala Boix and had another great days biking. That is apart from where the track had been dug up for a water pipeline (I made a detour) and further along where a locked gate had been put across the road near Boca Llisa (I snuck around it).
I had a very pleasurable rest & coffee at the Jacaranda Lounge in Es Cana overlooking the bay. All a bit idyllic especially admiring all the multi million Euro homes with their pools clinging to the cliffs.
The 23 miles and 1,704 feet of climbing today means I have now circumnavigated Ibiza in 97 miles and 9,288 feet of climbing over a very leisurely 4 days 🙂 Probably the most leisurely cycling I've ever done and really very enjoyable.
Big distraction this evening was whilst looking through my Feedly tonight I came across this story about Shane Acton who is something of a hero to me. I met him at a party in Cambridge after he had just sailed around the world in his 18foot dinghy. The memorable part was when I asked him what was he doing in the UK since he enjoyed it so much. His reply was that  he was saving up to do it again – I asked, how much money did he need. His reply was £50 🙂 🙂 Unfortunately the ciggies got to him and he died in 2002 even though he was born in the same year as me. There is a good thread here about him which led me to download his book……..
The photos of the day are here
My heartrate was: