Today I was playing at been a tourist again by joining the free 2 hour walking tour of the old city. Organised by The Melaka Museum Corporation & Melaka Tourism Promotion. Not free enterprise as in my tours of Bucharest & Ljubljana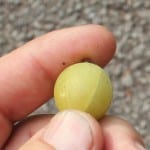 I could only understand about 1 word in 3 that the guide spoke & to be quite honest he rambled of topic quite considerably eg In Christ Church we had a diatribe about Dengue fever in Singapore! Then in the Buddhist Temple it was plain that he disapproved of all the offerings and 'lucky' charms etc. So disappointing compared to my previous city tours. For myself I was fascinated by the Dunlop building, Bastion House, now the Malay & Islamic World Museum! Obviously Mr Dunlop was very powerful out here in 1910  as it's on a prime site.
After a recovery shake I ventured down the river to what will be Melaka's tallest building with 42 floors which will have views over the straits.
An interesting sort of day but sad to say that the original small factories, blacksmiths are all getting priced out by T shirt shops, & cafe's like in Cambridge.
Tomorrow it's back on the bike to get closer to Singapore which at a push is only 3 days away.
Photos of the day are here
Sabine's take on the day is here