First thank you to the 68 folks who have signed up for my blatherings, yesterday I had 158 views although Scarpa might not be to happy that  my 40 days of wear post is still  gaining lots of views per day
Well I finally managed to warm up in my lovely silk sleeping bag inner from my China visit 🙂 and get a good nights sleep.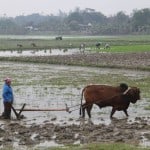 Today was a rain rest day, cloudy & overcast with many puddles but no wet from the sky. I decided to miss Highway 1 and using Gaia & Open Street Map I found a gorgeous route following the coast on totally traffic free roads with delightful villages full of friendly folks. The Water buffalo is still in extensive use both for ploughing and as a general run about with a cart attached. In fact I saw no motors in the fields at all. Stopping at a market in Cuong Gian I was reminded of Doc Searls famous quote "markets are conversations" as I was immediately swamped with onlookers babbling away 🙂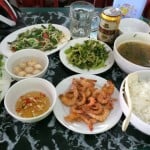 I stopped for lunch in Ha Tinh, a prosperous little town. Mt new found skill of pointing to the things I like hit a major downside as the guy obviously thought I wanted it all! My, what a spread it was too, totally delicious & it only came to £3 🙂 Everyone was so friendly so a delightful experience. I must say my stomach thoroughly approves of the food here 🙂
The afternoon was spent down Highway 1 it's in better shape on this stretch & quite enjoyable at times. Especially seeing the bane of my travels, the red buses, having to negotiate around a herd of cows who wandered on the road without a care in the world.
I called it a day in Ky Anh when I saw THe Ngoal Thoong Hotel especially when the receptionist could speak decent English!
Today was 69 miles ( Strava – includes some walking around town). Here is the stats.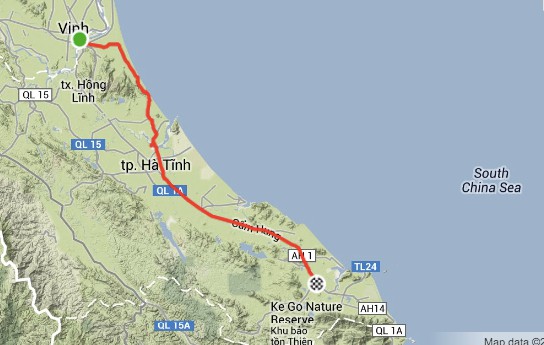 and the pics of the day are here