Another early start and the hotel had made me a egg sandwich for breakfast, once again they thought it needed a slice of ham 🙁 So i fished it out.
The previous night I had created a route with bikemap.net that stuck to the coast and avoided the dreaded main highway 4, the route worked beautifuuly even including a bit of dirt track hill climbing 🙂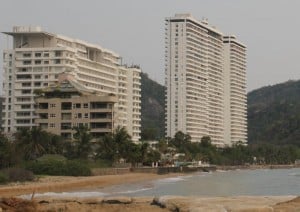 Amazing to see multistorey massive hotels just plonked in some remote bay, so incongruous, really makes you wonder about our civilization. The further from Hua Hin the more low key the place s become culminating after 30 miles in the rather bohemian village of Dolphin Bay with massage beds on the lovely beach & lots of low key hotels. After my massage & snooze (an experiment to see if my pm performance would improve – it didn't 🙁  )  I moved on although i should have stayed I think.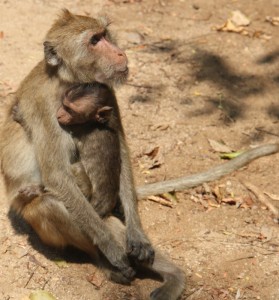 I went on the edge of Khao Sam Roi Yod national park and even got to see a pack of monkeys rummaging in the Sulo bins, thoughtfully placed there by the park staff! Eventually after 58 miles I arrived at the Kuiburi Hotel & Resort which I'm not enjoying at all, crummy internet, staff who don't know about smoothies and loads of mossies, so I'm currently having dinner & using their excellent internet at the neighbouring Vartika Resovilla.
Here is the days Strava: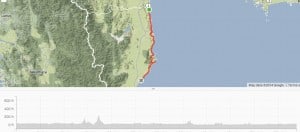 I make it that I've now biked 1,656 miles (2,650km) so still about 1,100 miles to do, which if the temperature keeps increasing at the present rate I'm unlikely to be able to do it all on the bike in the remaining 26 days.
The days pics are here