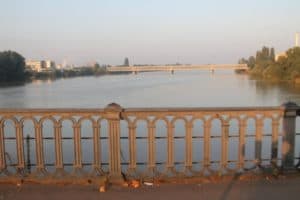 Another brilliant day of cycling South. It was a bit of a nightmare leaving Nantes in the rush hour with its maze of cycle routes, some physical cycle paths and some painted jobs like in Cambridge. I fell of the bike once when my foot I thought was unclipped was actually still clipped in 🙁 bashing my shin in the process. I survived anyway 🙂
Crossing  the Loire I was amazed at how wide it is equally crossing over the peripherique I was equally amazed at how busy the road was! Oh the joys of pedaling on country roads.
It was an over 90 mile day so I tried to keep stoked up, however obviously Wednesday is a national closing day for shops & patisseries, perhaps that is why there were so many cycling groups out today!
Moutiers-sur-le-Lay was having a market day so one patisserie was open 🙂 I loved it when I said I wanted a fromage sandwich sans jambon, she just opened it up and whipped out the slice of ham 🙂
At Marsilly I decided to hand over navigation for the final stretch to the hotel to Google. It proceeded to take ma around field edges across field tracks and through snickets in housing estates but I stuck with it as I discovered the backwaters of La Rochelle.
I was more dismayed passing through huge grain silos and other industrial stuff to find my hotel, The La Jetee Sud and its famed seaviews was right next to them and its seaviews were through the port fencing 🙁 However, the guy who runs it is really friendly and speaks good English. I loved the open plan bedroom/toilet/shower just like I made in Glisson Road all those years ago 🙂
In chatting, he mentioned that Ryanair runs flights to Stansted from the immediately adjacent La Rochelle airport. So I quickly booked a return flight from thursday to tuesday so I could pick up my new iPhone 7  so I could see Sally 🙂 He is willing to look after my bike and bits here so I can continue my trip next wednesday.
All in all a very enjoyable day and my legs seem to be overcoming their stiffness, it will be interesting to see if it returns 🙁 although Sally mentioned a Sportive on Sunday!
Strava says I did 91.8 miles and 1,494 feet of ascent at 12mph – the fastest average for this trip! Interestingly the Strava iPhone app keeps crashing, I think it can't cope with the Gaia, maps.me & gmaps been open all the time! so the data comes from the etrex20 which plods on.
The days photos can be found on dropbox here I would be interested in any feedback about this way of displaying photos.