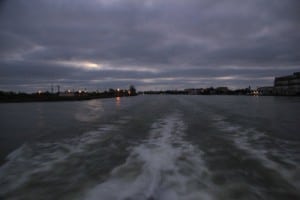 With Sulina been the end of the road waterway, it's time to start my return to another adventure. I've been reading lots of good things on various blogs about Romania's capital, Bucharest so I'm making that my next port of call.
The ferry leaves Sulina at 7am so it was an early start to meet another mega group of fishermen, now with fewer bags but with their precious caught fish already frozen, complaining about how few fish there are now in the delta,
The  boat  with us packed like the proverbial sardines arrived in Tulcea. The port conveniently has an integrated bus station. Yesterday I had chatted to the bus driver going to Torino (Turin in Italy) via Bucharest  and he said there was no problem putting bikes on big buses. Which was very good news as there are plenty of problems with bikes on trains. So I went to the Augustina window, emphasizing my need for a BIG bus, normally they use minivans. No problem – they had one today (Friday) at midday taking 5 hours or so for £14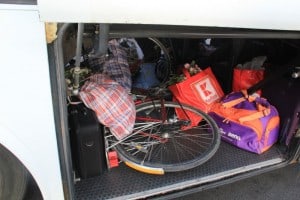 The bike easily fitted on although I was worried about folks putting heavy cases on top of the rear wheel, in fact they were just bags of flowers so it all went very easily.
Whilst on the bus i twittered about visiting Bucharest and got an immediate reply from @bucharestlife recommending The Rembrandt Hotel, a few clicks on the booking.com app and I was booked in. Modern technolgy at its most awesome.  The ride from the bus station to the hotel was only a few minutes. The hotel is excellent, cosy & right in the centre of the old town, so I lengthened my stay till wednesday morning.
The photos of the day are here