Some might say sanity has returned others may say why choose to go on a mega family outing with 6 adults and 7 energetic young kids 🙂
I decided to take a day of, Abrie & Ilze-Marie offered to let me tag along on their tour of Kolmanskop,  Diaz Cross & Luderitz. Tomorrow a whole convoy of them are doing a 3 day dune driving experience.
I can now see why they drive so fast! It seemed to take ages even though it's only 120km.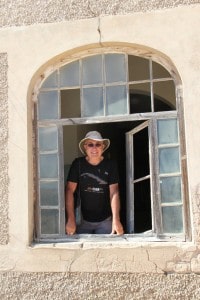 Kolmanskop is an amazing ghost town that was once one of the wealthiest places on the planet. Around 1 ton of diamonds were literally picked up out of the sand! Once depleted and a new source was find everyone just upped and left 🙂 So the place has been left for the sand to encroach & destroy. I wonder how much of Germany's wealth came from places like this.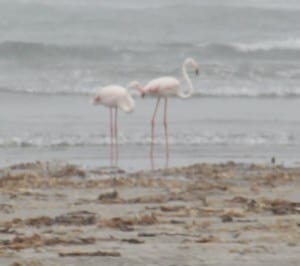 We then went for a walk to Diaz Cross which is on a peninsula jutting out from Luderitz. Fascinating to see pink flamingos just wandering along the beach's and to see the unbridled energy of 7 kids roaming the rocks.
In Luderitz we found a Spar which unbelievably had yellow bananas etc etc plus I stocked up on Amila sachets as well as finding non chocolate coated energy bars 🙂
Tomorrow looks like another long day – the closest hotel seems to be at Seeheim. Although it appears there is a 40mile downhill stretch 🙂