After nearly falling down one of the open drains that Malaysia specialize in I had my egg roti and said farewell to Sabine who was cycling onto Mersing for the ferry to Tioman.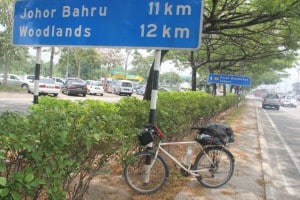 My road was hilly, wide and quiet for the first half to Highway 1,  all be it deadly  monotonous  Sime Darby plantations.  Highway 1 was awful, the road narrowed and became busy, I guess because the main parallel  E2 has tolls which folks avoid. Things became worse as I neared Johor Barhu with the road turning into as bad as biking down the M1 in the UK with endless slip roads 🙁  I decided against staying in the town as it looked pretty awful so kept following the Woodlands signs which I knew was in Singapore. I followed the motor bikes through passport control and then biked over the causeway past the huge queue of cars and into Singapore immigration. The only problem was trying to fill in a card covered in sweat 🙁
On the island I took a wrong turn and ended up on the expressway, then having to walk down a slip road to get back on a normal road.  Eventually I ended up at Kranji MRT station where I quickly did the essentials: 1GB / 7 day SIM for $S10 , changed my money & used the ATM. After Facetiming Sally outside the racecourse. I was just about to leave when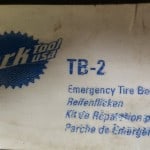 I saw some guy lugging an expensive mountain bike over his shoulder 🙁  apparently the rear tyre had split and in the process of re-inflating it  after patching, had broken his pump!  Fortunately I had repaired my Chinese pump the other day so it was quickly pumped it up!
Andre from the UK was so grateful that he offered to put me up in his big house with pool 🙂 Even better it has fibre internet at 50 megs up & down. So an excellent ending to a tiring frightening day.
Efectively that's the end of my SE Asia biking tour. My next post will have all the stats…
Here is the Strava for my 87 mile long day today:

A few photos are here.