After 68 years I've finally made it to South Africa and If first impressions count then I like it 🙂
Since my last little biking trip to Cuba I've enjoyed a week in January snowboarding,  Total luxury and perfect conditions, staying at the superlative Chalet Du Coin at the centre of Les Gets, boarding with fellow residents  from Jersey & Colchester.
This was followed in February by two weeks in El Medano, Tenerife with Sally. We rented bikes for 6 of the days and managed 8,800 feet of climbing in one go by climbing Teide.  During the stay I became addicted to apple crumble from Rosmarino which no doubt contributed to my 2kg weight gain whilst in Tenerife.
Now to my latest mini adventure which is 56 days in Southern Africa where I'm hoping to bike The Garden Route to Cape Town and to visit Victoria Falls a total of 2,500 miles biking this is highly unlikely in the 56 days I have, So some hops by faster transport are called for 🙁
The 10 hour overnight flight to Jo'burg was a bit of a nightmare sandwiched between a rugby prop and a family with two crying babies 🙁 Immigration was rapidly cleared (visa required line) I then was charmingly ripped of £20 by two porters transferring the bike and checking me in for the flight to Port Elizabeth. Whilst waiting for the flight I bought a Vodacom SIM for about  £10 per GB.
Nearly missed the flight after waiting at the airport for 7 hours 🙁 I was successfully met at the airport by Angelika from GB's Guesthouse, after a quick burger by the sea I finally collapsed in bed at 11pm only to be woken by a violent storm at 1.30am 🙁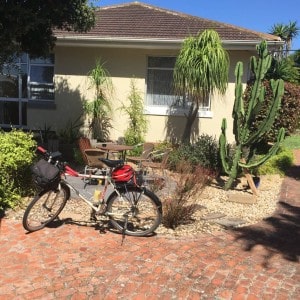 This room, accommodation and the breakfast this morning are outstanding, easily deserving its 9.2 reputation. I quickly assembled the bike, not damaged at all even though the wheel nuts had broken through the cardboard box. I did a little spin in the 30+mph winds around the town with the South African Army and Navy putting on a show of strength ready for The President's visit tomorrow, unfortunately he won't see me as I'm of to the Addo game reserve 🙂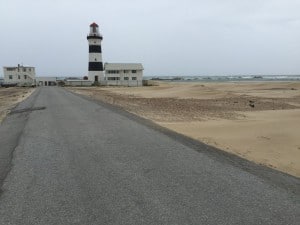 The afternoon was a gorgeous walk along a 2 mile boardwalk and sandy beaches to the lighthouse at Cape Recife after a coffee at the SAMREC cafe (who knew that penguins can catch avian malaria/) I returned in pouring rain 🙁 🙁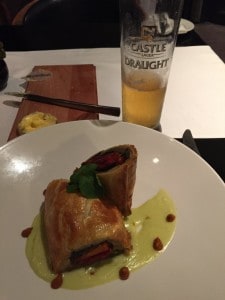 Tonight was an awesome meal in the presence of all The President's Men (he apparently dined in his room). Amazing two courses and two pints for £10