I arrived in Prague at 9.30am on a gorgeous sunny morning. Fully refreshed after over 8 hours sleep on the train. Fitbit said I was restless for 32mins and awake for 4mins of that time 🙂 Biking is good for sleeping!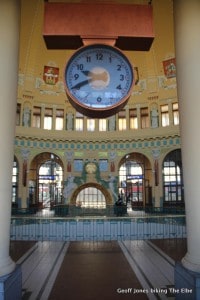 Prague was glorious although totally rammed with tourists, think Kings Parade. I really loved how the Central Station has been renovated with the old domed entrance fully restored with the huge modern concourse buried in the basement. Its a pity that it's stranded behind a high speed dual carriageway 🙁 but eh ho I descended again and popped up further across in the square.
The route worked fine using the Gaia app on my iPhone and I soon left the city via the delightful Stromovka park, hitting my first diversion of the day outside the zoo. The path alongside the river is MAGNIFICENT filled with roller blading kids at summer camp & lots of cyclists of every description. Such a great use of EU infrastructure money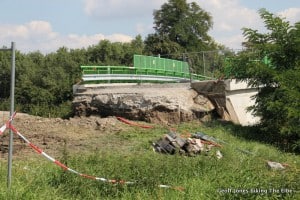 I stopped for lunch by a lock and treated myself to a beer and cheese sandwich, what a shock the total price was £1.63. I had to leave the riverside and do some climbing at Husinec finally hitting the river again just after  Maslovice after another diversion for sewer works. At Nelahozeves the railway bridge couldn't be crossed 🙁 so with Open Street Map and some help from locals I worked out my own diversion to Veltrusy where in the woods I managed to get a thorn in the front tyre giving me a slow puncture.
At the ferry near Luzec I met up with two cyclist guys from Hamburg whilst chatting to Ren & Steve on Facetime. Great amusement ensued at the nearby pub with Ren chatting to the regulars in Czech 🙂  After another pint of Pivo  (A whole 60p) I continued onto the delightful hilltop, fully restored, city of Melnik where I parked myself in the Hotel Jaro for 840 Koruna (£24) a night including breakfast, fastish internet and a bedroom with a whole 3 piece suite in it 🙂 A delight to fix the puncture in such comfort 🙂
An excellent first day biking on The Elbe biketrail with 43 miles covered and 1,338 feet of ascent! The Strava is here and pictures here.
By the way more photographs can be found on geoffjones.net also you can sign up for these missives via email, see top right hand side at geoffjones.com