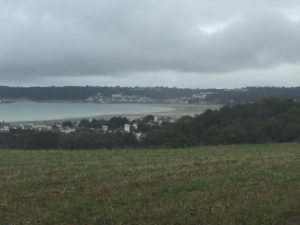 After yesterdays faux pas of riding to Weymouth to find the ferry had moved to Poole.  I escaped by taking the 7.23 train from Weymouth back to Poole, by the time the train arrived in Poole there were 15 bikes squeezed into our compartment!
Gmaps once again came up trumps to navigate the maze of cycleways from the station to the port in 15 minutes. I had a bit of a long wait for the ferry but chatted to a couple from CTC Nottingham on their flash bikes who are also touring around. The ferry itself was very efficient and we made the 150 mile crossing in just under 5 hours including stopping at Guernsey it clags along very smoothly at 40mph.
I had an awful night's sleep at Seaspray, soft beds and sea sounds don't suit me, the landlady was very helpful though, making me toast and coffee before I left. The triathletes were already bombing up and down the bay.
The weather in Jersey was pretty bad, overcast and drizzly. To get to The Village B&B it was uphill all the way to St Lawrence. The place itself is very organised but my poor bike has to stay outside 🙁  in the drizzle.
Tonight I met up with Peter at the neighbouring Saint Laurent  pub which has only two beer taps, lager & ale! I met Peter from my luxury stay in Les Gets earlier in the year. Tomorrow he is taking me on a bit of a tour of the island on his bike.
Today's exciting Strava shows 2.3 miles and 166 feet of climbing.