Lifeday: 25,758 (70.523yrs)
Date: Sat 3 Feb 2018
Location: Avignon, France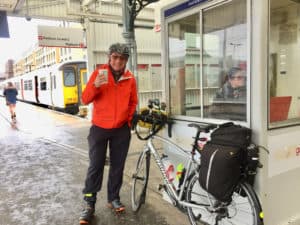 I've been pondering where to go for my next bike trip now I've finally recovered from the dreaded lurgy.
My swimming pals keep going on about the excellence of European high-speed trains and also Tony has been saying how much he enjoyed Lisbon, plus I discovered a 200km Audax from Murcia which is around 10deg warmer than the UK. I also read a piece on a cycling tour from Grenada to Seville. So I thought a little tour cycling across Spain from Murcia to Lisbon, getting to Murcia by taking the bike south by train.
Richard kindly offered to get me a cut-price Eurostar/TGV ticket to Avignon via Lille so that's where I've been today. The huge worry about European rail is carrying the bike! Whilst in Taiwan I bought an ultra lightweight nylon bike bag so I thought I should be OK.
I managed to get the prime cyclists seat, by the loo, from Cambridge to Kings Cross then a quick walk across the road to St. Pancras to find the Eurostar ticket machines, these worked incredibly well. Next stage was to check the bike in at Eurodispatch (nicely hidden behind Boots in the station). After the usual pitch of how it would have to go on another train, they eventually saw sense and said because it was an 'old' train it could carry 8 road bikes no bag required, the new trains have to be bagged up. After charging me £25 and signing bits of paper the bike was wheeled away 🙂
I had previously arranged to meet my friend Tony for lunch, very pleasurable too, but his remarks about Lisbon being expensive & very hilly I found a bit disconcerting.
The train left on time after the usual palava a la airports, except laptops can stay in their bags. The highest speed was 182mph but the channel crossing is only at about 90mph the ride is nowhere near as  smooth as the bullet trains with quite a bit of ear pressure in the tunnels and swaying at speed. However, excellent seat service food way better than in Japan 🙂
At Lille I helped the guy get the bike out of carriage 10 and he said that the TGV could carry bikes similarly, he was wrong! When the platform was finally announced at Lille (why don't they know it in advance?) I dashed down with the intact bike to be told it had to be in a bag, so I pulled out my bag and with that I was bundled into the train whilst still trying to get the bike in! the space available for luggage is tiny even in First Class so it should really mean taking both wheels etc off.  I just took the front one off and propped the bike up against the end rack, the inspector didn't moan although it was disconcerting when we arrived at Disneyland and the carriage filled up with folks and suitcases!
No service on the train as it was a double height carriage, it's highest speed seemed to be 170mph and I managed to reassemble the bike before getting into Avignon so a quick exit. The F1 Hotel was quite close but I was pleased I had put the route on the Elemnt as I would never had found it. I have a room for disabled guests so quite large but no soap, towels or loo paper but then its only €35 a night.
After today I don't really rate long distance rail travel in Europe especially if I was travelling with Sally, way simpler & probably cheaper at regular prices to put the bikes in a box and fly 🙂
Tomorrow it's a ride alongside the Rhone and then across to Montpellier.
Today on Flickr: