After another good nights sleep on a firm bed I was out on the road at half past eight after my croissant and coffee.
It was amusing to see all the kids walking to school with their duffel coats, hats and scarfs on with me feeling OK in T shirt and shorts :-).Once out of the city, skilfully guided by maps.me I met the really thick mist with quite poor visibility and my spectacles getting steamed yp all the time.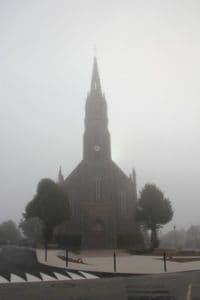 At Chavagne I managed to find a Carrefour open so I could stock up on water and Mars Bars 🙂 By 11 the sun had burnt through and it turned into a lovely day.. The route Strava had worked out for me last night was perfect, not to much traffic at all. Its certainly faster on the road than the towpaths etc. I re-discovered the V2 cycleway at Maure de Bretagne so I thought I would give it a try, but it was a real pain having to zig zag around barriers every 5 minutes so I rejoined my trail at Lieuron.
I discovered the Atlantic trail that runs alongside the Brest to Nantes canal at Blain. However, I was going so well I stuck to the road although I've got to be a lot more careful on which way to look first at junctions! and which side of the road to ride 🙁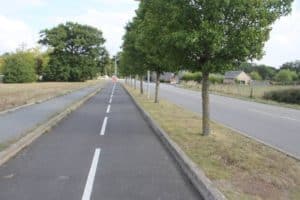 Nantes is a vast town with a maze of trams and cycleways so the last 30 minutes were quite exciting, compared to the UK a set of lights is missing at every junction 🙁
I'm staying at The Grand Hotel de Nantes, Grand is in the name but not inside! I forgot that when booking.com gives it a 8.2, it's only for the location element not anything else. The bike is down in the basement, a first and it will be a struggle bringing it up the spiral staircase tomorrow.
My Etrex says II did  81 miles and 2511 feet of climbing at 11.5mph so thats on Strava
The pics are on Dropbox here