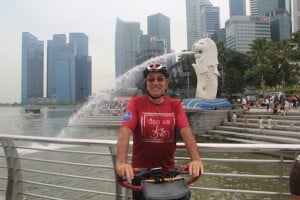 Now my little Hanoi to Singapore bike ride is finished. Here is a first glimpse of my stats
I biked 2,558 miles (4093km) with  55,000 feet (16,764m) of ascent. Pedalled  it in 218 hours with 40 days on the road.  My total time away from Cambridge (on this trip) was 68 days from 2nd Feb to 7 April.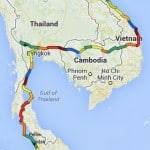 I dropped down 20 degrees of Latitude from Hanoi at 21 degrees North to Singapore at 1 degree North. Biked through 5 countries: Vietnam, Cambodia, Thailand, Malaysia & Singapore.
I spent £1245 on accommodation in the 68 days, Apart from the stupendous hospitality of Daniela & Andre in Singapore the cheapest night was Ratanak in Borkeo for £4.83 most expensive was the White Sand Hotel in Hua Hin at £42.59 per night.
Longest daily distance was 97 miles from Phu Phong to Khong Dao. Highest average speed speed was 14.32mph for the 64.7 miles from Cho Ngoi to Dien Chau. Overall average speed was  11.75mph
No major bike repairs only a new rear bike tyre in Thailand. I think 5 punctures all in the rear tyre.
I will probably add to this as time goes on…