Today I was in tourist mode again off out on a day long boat trip around and on Phi Phi from Lanta including lunch on The Beach with a thousand others.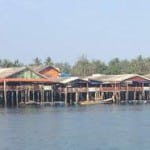 We started on a regular boat (good experience for the next few days of island hopping) which transferred a load of folks onto the big boat to Phuket, whilst still  out of the harbour at Phi Phi  (praying this is not going to happen to me when carting my bike around). We docked at Phi Phi then transferred to a 'long tail' the distinctive boats that have a regular car engine hooked up to a long shaft with a prop at one end. Very noisy & smelly 🙁
First stop was a very pretty lagoon the east side of Ko Phi Phi Le where we all leapt in and had a swim, no fishes here but a sandy bottom & of course loads of other boats.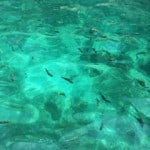 We then moved to the south of the island where we could snorkel with shoals of fishes, pretty impressive a bit like swimming in an aquarium, the current was quite strong so a bit of effort needed to get back to the boat.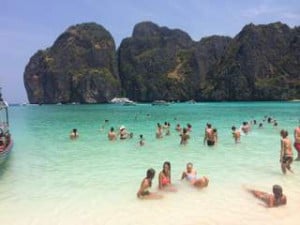 Then it was round to the west and the cove & beach made famous in the film. Blackpool eat your heart out, the place was rammed with boats & folks even so it is still very impressive scenery and the water is surprisingly very clean.
After lunch it was a quick stop at monkey beach but the monkeys were monkeying about and no where to be seen! so back to the main island of Phi Phi, no evidence of the mass destruction from the Tsunami on Boxing Day 2004,  just loads of shops and thankfully no cars or motorbikes allowed, If the weather was cooler it would make a great place to explore.
So a good day out and pretty good value at £22 or so. Didn't bother lugging the big camera around so only a few pics with the iPhone here