Thursday 24 March 2016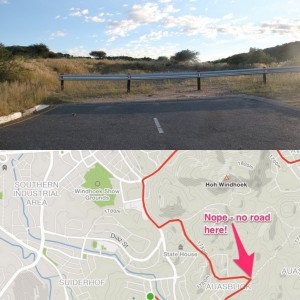 Anthea at Anjo Villa gave me a mega omelette plus a fruit salad for my early breakfast, I was on the road by 7.30 as I knew it was going to be a long haul. Anthea had spoken to the guys from West Nest Lodge and booked me in for a nights glamping. I started confidently following my Strava Route. Alas, as you can see it led me on a wild goose chase to parts where no road exists 🙁 very frustrating wasting nearly an hour in unnecessary hills.
The road is quite narrow with only a gravel verge. It's obviously the main route in for fuel with huge tankers flying by plus equally huge double tipper trucks coupled with the minibuses and their trailers of baggages and of cause the 4X4s pounding by like F1 drivers. I had to escape to the gravel a couple of times to avoid an accident and if you get a double blast from a truck behind you then get out of the way quickly! tuck your right arm in and head for the grass 🙂 All with a rail track running parallel to the road!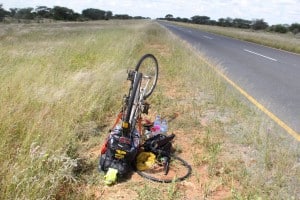 To top it off I got my first rear wheel puncture in 3000 miles 🙁 the tyre is looking a bit thin but I replaced the tube with my super duper liquid filled one after pulling out another load of thorns.
Fortunately it was quite cloudy today so didn't reach super hot levels although I still drank close on 5 litres of assorted liquids but was certainly glad of a few pints of beer when I arrived..
Tonight I'm in a tent at West Nest Lodge with real beds and electric, undoubtedly with a few mossies as well 🙁 The dinner was excellent, lets see what brekkie is like.
Strava says I did 106.7mi in 8:55:57 Moving Time and 1,735ft of ascent at a respectable 12mph helped a bit by the 800ft net descent during the day.