Wed 23 Mar 2016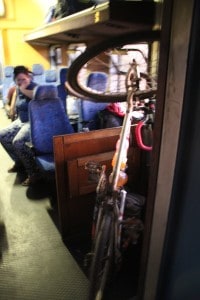 The observant may ask how did I get here so quick 🙂 the answer is by riding on the overnight TransNamib train from Keetmanshoop on Monday night. Doing the 340 miles in 12 hours for about £8 . Eurostar it isn't and in my experience the worst ride yet. The coach was made in 1975 and shows it! The ride was freezing due to the coach interconnection been split.
To make matters worse the front tyre went flat and I discovered it had numerous thorns in it 🙂 I debated fixing it on the train but left it to do on Windhoek station were I discovered the new inner tubes were useless as the valve diameter was greater than the hole diameter in the wheel. So more patches.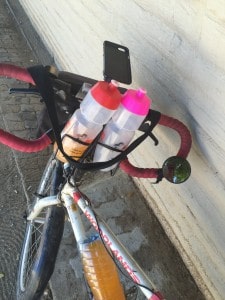 First job was to find a bike shop ending up at Mannies Bike Mecca, great place where he sold me two inner tubes which he put some sealing fluid in before reinserting the valve 🙂 I also managed to mount two water bottle holders onto the handlebars so I can now carry 4.5 litres on the bike plus another 3 litres on top of the bags.
I'm staying at Anjo Villa a real gem of a place run by Anthea who gave me a cooked breakfast at 11am when I arrived 🙂 today she even lent me a car to go and find the world's largest crystal in Swakopmund . However, after fighting the early morning taxi rush getting lost in the process with my iPhone dieing from electron exhaustion  I gave up when reaching Okahandja and returned to Windhoek to find a pharmacy to get some Coartem tablets (£20 for 20tablets) Doom deet & insect repellent ready for the swamps that  beckon.
Tonight Anthea managed to fix me up at West Nest Lodge well over 100 miles away, lets hope there isn't a headwind!
The spreadsheet shows I've actually biked 1374 miles (5000km) and 68,975 feet of climbing.
Strava says I have another 1,000 miles to Victoria Falls but only 18 days left, 56 miles every day 🙁 so a few more short cuts may be required 🙁