A much better start to the day with fine weather an OK breakfast and missing out one of the Elbe's horseshoe bends finding myself on the outskirts of Magdeburg in just over 1 hour, so pretty pleased that I stopped in Pretzien last night.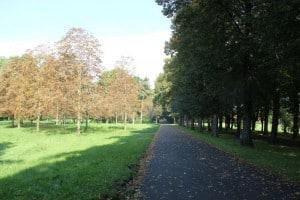 I approached Magdeburg over the beautiful island park at Rotehorn on a perfect autumnal day cool sunshine with leaves blowing everywhere – and chatting to Sally over Facetime. O2  can only provide 3G coverage in major cities. Obviously Germany is a poor country that can't afford the luxury of 3G in the country….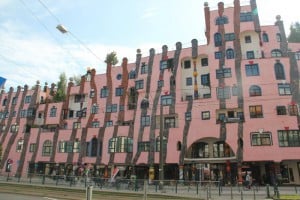 Magdeburg centre marks the halfway point on the Elbe River trail necessitating  a change to Book 2 of the bikeline books, unfortunately it was deep in my packing 🙁 The centre is pleasant enough with an amazing gaudiesque building and lots of interesting sculptures dotted around including one for all the children murdered in the concentration camps.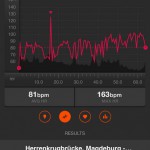 Whilst pottering around the centre someone on a bike nearly crashed into me, I couldn't unclip in time so down I fell, once again (after a similar experience on The Rhine in Dusseldorf) no one murmured a word or offered to help! Fortunately the iPhone stayed in its holder and the only damage done was my posh dynamo light bending its fixing 🙁 which needs fixing before I can ride at night. Wearing my heart rate monitor all day I got a bit of  a surprise in the evening…
I left Magdeburg through its now defunct harbour with buildings awaiting conversion to luxury flats & museums. Further along I came to the truly amazing modern aqueduct carrying the canal from Berlin to the Rhine an incredibly vast structure that makes UK canals seem like toys.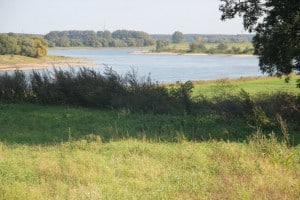 The afternoon was very pleasant through small very sleepy villages with occasional magnificent views of The Elbe meandering in the valley below. I eventually arrived in the stunning walled town of Tangermunde and called it a day at the Hotel am Rathaus in the centre.
I did nearly 64 miles at a very sedate pace of under 10mph for the day.
The Strava for the day is here and the photographs are here