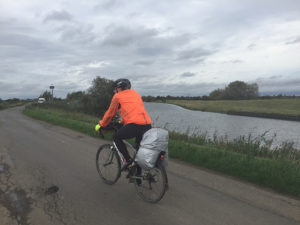 It's that time of the year again when Sally is about to finish another trip around the sun so time for another joint trip. Previous years have seen as go to China, Turkey, Morocco, France, Majorca and Hungary. This year Sally wanted to do a multi-day bike ride, she didn't fancy taking her bike on a plane so a UK trip was called for.
So this morning we waited for the rain to abate and with our smart new individual Topeak MTX luggage system with the MTX beam rack all encased in the custom rain cover we headed of in a northward direction towards the Lincolnshire Wolds with a lovely strong wind from the South pushing as along merrily.
My new gizmo the "Guardian Angel Radio Frequency Tracker" – which I'm using to try and keep us together when cycling worked great! The mini siren sounding when Sally was out of range ~15 yards or so. Enabling me to slow down safely. How long its puny batteries will last remains to be seen. The device packaging needs a revamp as well for cyclists but I see its made in Taiwan so maybe when I visit I can get it sorted. Thanks to @embedded_iot @amcewen and @lyndsaygirton for the help in locating the location device 🙂
We made the 62 miles to the Admiral Rodney Hotel in Horncastle in a great time with only a couple of tea breaks. A bit of consternation on checking in as I had stupidly made the booking for next Sunday 🙁 The hotel itself has just been refurbished and is very pleasant with a great dinner. The town itself seems to have survived the sixties and is really a very pleasant market town.
The Strava is:


and some pics are here: