I woke up totally refreshed and the sheets hadn't moved out of place all night. Today rain was scheduled and duly delivered 🙁
Ibis served an excellent buffet breakfast and I was soon on my way in the heavy rain to the main station just over 3 miles away according to my Strava. Once again the poor iPhone's touchscreen struggled when covered in water, it always happens when I'm homing in on a destination, must get an umbrella for it!
I had left it to late to buy an online ticket so I at to pay the full €120 for the 3 hour trip to Barcelona (the online price one week ahead is €69 for comparison 🙁 )  one huge benefit though was that I could specify the lower deck so I didn't have to struggle up the coach internal stairs.
Montpellier station is very pleasant built above the tracks with lots of eateries. Bike size lifts take you down to the platforms, once again you only get to know which of the 4 platforms it will use 15 minutes before it arrives, of course in Japan the platform is a given with clearly marked coach door numbered lines on the platform!
After my previous experience, I removed the pedals and released the mudguards before going down, leaving me 10 minutes to take the bags and wheels off and strap the wheels to the frame before dropping them into the nylon bag. Just made it when the train hoved into view, then a dash down the platform to the packed train.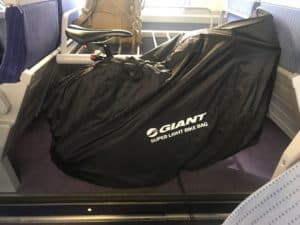 The bike just fitted (1 metre in disassembled length) against the luggage rack halfway down the coach very neat and out of the way but blocking the folk's suitcases in, fortunately, the seat was just in front so I could bob up and down at stations.
In Barcelona, I reassembled the bike on the platform so I could bike to Hostal One where I managed to convince the guy that my bike belonged in the bedroom not in the municipal car park down the road 🙂
Going out later I realised how much I love Spain with its shops that sell everything including plugs and adapters 🙂 plus great fruit shops.
Tomorrow it's back on the train to Valencia, poor bike must be getting fed up being taken apart so frequently!
Flickr