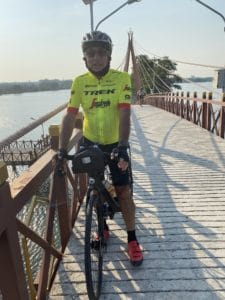 I've now been in Thailand for 88 days and this is the first time I've been near my blog!  Which is to say very unusual for me as is riding 6600km (4,125 miles) in the same period. Not sure if the cycling rate will continue at such a pace with, as in the UK, all Audaxes stopped and the daytime temperatures reaching 40+ in the late morning.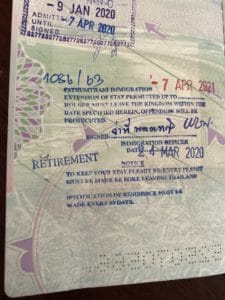 With a lot of help from a very friendly Thai Lady, I managed to extend my 90-day visa to a 1-year retirement visa which if I pay an additional 3800 Baht (£94) when I next leave the country it will be converted into a multiple entry visa. Which given all the COVID-19 virus stuff is very useful.
I made the decision to stay here in Bangkok rather than go into isolation on my own in the UK. interestingly as of today Thailand with a similar population to the UK has a total of 2,169 infected with 10 deaths against the UK's 42,000 infected and 4313 deaths!
Almost Immediately after I arrived I  failed the Sai Yok 600km audax due to a total lack of sleep on the plane and not been acclimatized to the afternoon heat but I still managed to ride 180km. The following weekend I successfully did the Kaen Makrut 400km in just over 23 hours with its two mega hills and very few/no supplies at the control points.
The star attraction for me was the Isan 2020km audax, awesome and very well organized and I did it comfortably in 160 hours the worst part by a long way was the 11 hours it took me to ride/walk the 80km from Ban Tat Kloi to Ban Kok Ka Bouk.
Two weeks later after doing some rides exploring Roi Et and then Ratchaburi we did the Ayutthaya 200 BRM audax a lovely easy ride (apparently Thailands first-ever audax route) but with a rather unfortunate abrupt ending at dinner after the event 🙁 🙁
I then decided to take a bike tour on my own with my pannier from Bangkok >> Na Rim beach >> Chantaburi >> Sa Kaeo >> Bing Nam Priao >> The Khun Dan 200 audax >> Ayutthaya – Wattha Sung >> Kamphaeng >> Bantung >> Nakorn Lampang >> Lampang 200km test audax ->>Chang Mai then an overnight train back to Bangkok to try the Tha Chin-Mae Klong 400 Audax which I DNF'd by 5km due to punctures and my miserable attempt to repair them! Thus making a rather epic 2,339km in 18 days! and apart from the audaxes with all my baggage!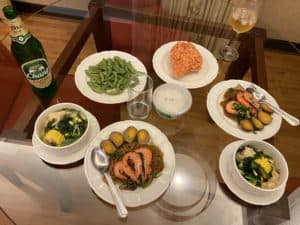 Back in Bangkok life eventually returned to before the dinner episode with the help of my bike box 🙂 although we now have the COVID-19 closing all the shops, bars, etc, fortunately, the Rembrandt Suites is a pretty decent place to be although a real pity the pool is closed 🙁