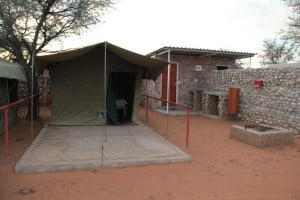 I was grateful for my glamping tent last night as the heavens opened up at 4am 🙁 Later  the sky was red before the rising sun promising more rain which duly happened 🙁
After breakfast I got my lift back to the West Nest roadside campsite where I had left the bike filled the bottles with 3 litres of well water and of I went. The road wasn't busy like yesterday so much better – I only at to take evasive action once – when a car was overtaking a lorry coming towards me.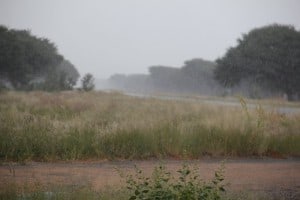 I found the long slow drags quite hard and only one real downhill all day. I kept running into heavy showers and my jacket proved totally useless with the arms filling with water 🙁 good job the showers were quite short ones. My triple protection bags worked well with water only penetrating the first layer 🙂
I had a good coffee break  and enjoyed the WiFi to call Sally at The Spar shop in Gobabis (Spar should publish a map with all their stores marked) Gobabis began to feel like Africa with all the ladies dressed up in their lavish dresses.
Eventually I arrived at the Zelda Guest Farm, I declined the invite to feed the animals an instead filled my own belly 🙂 I'm sure the grandkids would love these places bit like staying in a zoo/playpark.
Tomorrow it's Botswana were apparently there are no fences alongside the roads 🙂
Another 83 miles on the clock making it 1,564 miles (2,500km) so far pedalled in Africa. Plus 71,096 feet (21,700 m) of climbing (about 10 Teide climbs)!