We have both qualified & received our places for our first Paris-Brest -Paris ride. We completed our 200km, 300km, 400km & 600km qualifying rides in Thailand. The 2023 PBP for me starts on Sunday 20th August at 19:30 and Honey at 19:00. We have 90 hours to ride the 1219km (757 miles) which makes my finishing time on Thursday 24th August at 13:30, although obviously, it can be sooner hahaha. Stop laughing I did the Isan 2020km ride with a few hours to spare!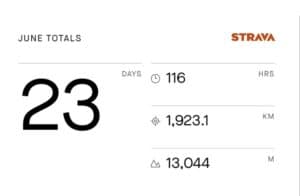 We have spent June training in the UK, The PBP course is hilly with 11,750m (38,550 feet) of ascent, or roughly 1%. Checking my Strava it looks like in June I cycled 1923km and climbed 13044m which is 0.7% so getting close. However, my average moving speed was 16.6kph obviously I need to speed up a fair bit if I want to sleep on PBP.
I managed to get some sort of lurgy in the past few days which has had me shivering like crazy and non-stop peeing. But it seems to be clearing up fast now so hopefully training will resume tomorrow.
More to