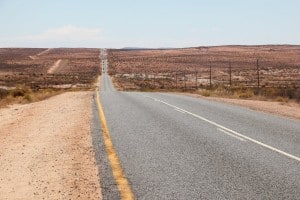 After a dreadful disturbed nights sleep caused by a bunch of flies who kept waking me up. I finally departed the caravan park after 9am 🙁 and with no breakfast. My good samaritans Eugene & Marti had hitched their caravan up and departed so I was unable to say farewell to them.
I crawled up the hill to Springbok working out what 'essentials' I needed such as suntan blocker & antiseptic cream. I had breakfast where we had dinner last night whilst waiting for an omelette I drank a litre of grape juice. Afterwards, at the garage I stocked up on water and a never to be repeated experiment 1.5 litres of Sprite. Eventually at 10.51 I set of – way way too late to start a ride 🙁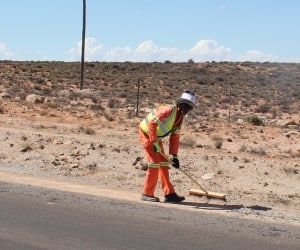 The road was hilly I was tired and all the shady picnic benches have disappeared plus lots more roadworks where folks exit them like greyhounds from a starting gate.
It was extremely hot, the hottest day yet for me, drinking boiling hot Sprite is dreadful totally drying out my mouth and making me even thirstier 🙁 and the hot water wasn't much better,
Steinkopf came into view and I decided to abandon the day whilst at the garage slurping cold drinks and ice cream.
The guy from Cedswill Guestouse came to find me and even better drove me to the out of town petrol station for rather disgusting take away fish & chips, grapes & beer.
Tomorrow will be an early start to get to the border, then I have to decide whether to stay the night in South Africa or Namibia.
Strava says 34.2mi Distance 4:08:45 Moving Time 1,673ft climbing giving an average speed of 8.3mph 🙁