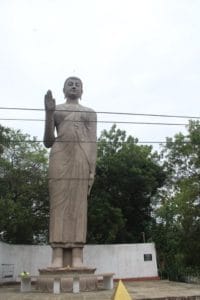 I woke up to a muggy drizzly day 🙁  I had the full Indian breakfast – identical to last nights dinner 🙂 I slept OK at The Samren Hotel but the mattress was so thin I could feel all the slats on the bed 🙂
Loading the bike up I discovered the bar bag rain cover was missing, couldn't find it in the room so assumed it went AWOL fortunately the drizzle had eased of so it was merely damp now. Then it was straight up the  clover leaf ramp and onto the dual carriageway bypass, pretty much deserted.
Last night I planned a route up into the various lakes. However due to the paucity of bridges across the various rivers it meant coming back down to the coast road. So with the poor weather I stuck to Plan A, staying on the coast road!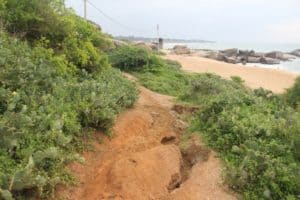 At one point I thought I would go down one of the beach roads to see if I could actually follow the beach, bit of a mistake, apart from seeing the folks buying the catch of the day from a boat all I managed was pushing the bike through cacti and other prickly plants. Fortunately I didn't get a puncture 🙂
Back on the road I came across the pretty amazing Agro-Technology Park at Bata Atha thinking how great it would be if PHH would suddenly appear and guide me round. But for me the most stunning thing was a gateway of two clasped hands totally made from header bricks! Just incredible 😉 and a testimony to the skill of bricklayers.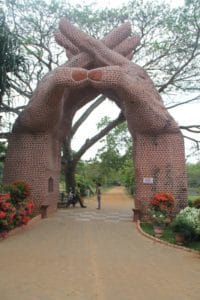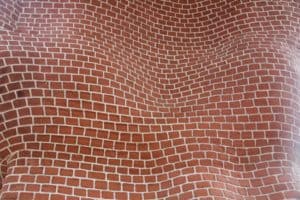 I eventually arrived in Tangalla and remembered the book RIDES AROUND SRI LANKA  by RICHARD COOKE  which I had read on the plane over here where he mentioned the Gayana Guest House. Maps.me showed it in the wrong place (now corrected by me). When I arrived I showed the staff the picture from the book and they instantly recognised the folks in it.
My room overlooks the ocean which with the wind and waves crashing ashore is very noisy 🙁
Unpacking my bag I found the bar bag cover right at the bottom!
Todays 31 mile Strava is here and pictures here